A blissful beach vacation comes to an abrupt end
Text and Images by Della Matheson
The late President of Tanzania, John Magufuli has been laid to rest, while the true cause of his death remains a mystery – the official line is that he died of a heart condition, but the opposition claim he died of Covid. Now Tanzania has a new President, a woman, and it remains to be seen whether she will take a different line on Covid and on starting a vaccination programme for her people. Magufuli's belief that prayer was the best prevention has not served his nation well.
My friend Winnie was first to break the news to me, ahead of the BBC. RIP our President, she wrote in a 3am WhatsApp message, and for a week she changed her icon to a photograph of Magufuli.
I met Winnie just over a year ago. She was working in our guest house in Zanzibar. At the time, rumours of the virus were widespread, but the implications were not. Life seemed tranquil and normal. Our room was cool and spacious, with a palm-shaded rooftop terrace overlooking the sea. Dinner in the restaurant was sociable, and there was no suggestion then that we would soon be caught up in a maelstrom. It's true that on arrival we were temperature tested by gloved and masked airport workers. When we arrived back in Scotland three weeks later, there was still no sign of testing or protective gear for airport employees. In that respect, prayer or no prayer, Zanzibar was ahead of our own country.
For a week, we stayed at Bellevue guesthouse in Bwejuu, on the east coast. We were astonishingly idle, given that this was our first time in Zanzibar. Our natural drive to get out and see what there was, go touring, go snorkeling, fell away under the spell of the sea, the rustle of the palms, the sound of African music floating up from the beach. A stroll along the shore, a plunge in our private pool, a beer…the days drifted.
One day I stirred myself enough to admire Winnie's clothes. Printed cottons, vibrant and elegant.. She offered to take me to her dressmaker, and that is how I met Malkia. A short cab ride along dusty roads to a small village with sleepy dogs lying in the heat and the dust, and a pink painted hut with Malkia's shop inside. Meeting Malkia was one of the great days of our time in Zanzibar. This beautiful woman carried with her an atmosphere of power and grace. She had organised the women in her village, giving them lessons on how to use a sewing machine, and taught them to make simple clothes to sell in tourist hotels, under the label Malkia Design, Zanzibar. I chose a dress, but said it was too long. In minutes, she had shortened it, and used the leftover cloth to make me a little head bandana. Here we are. I look at my hand, resting affectionately on Malkia's shoulder, and think now, that gesture would be out of the question.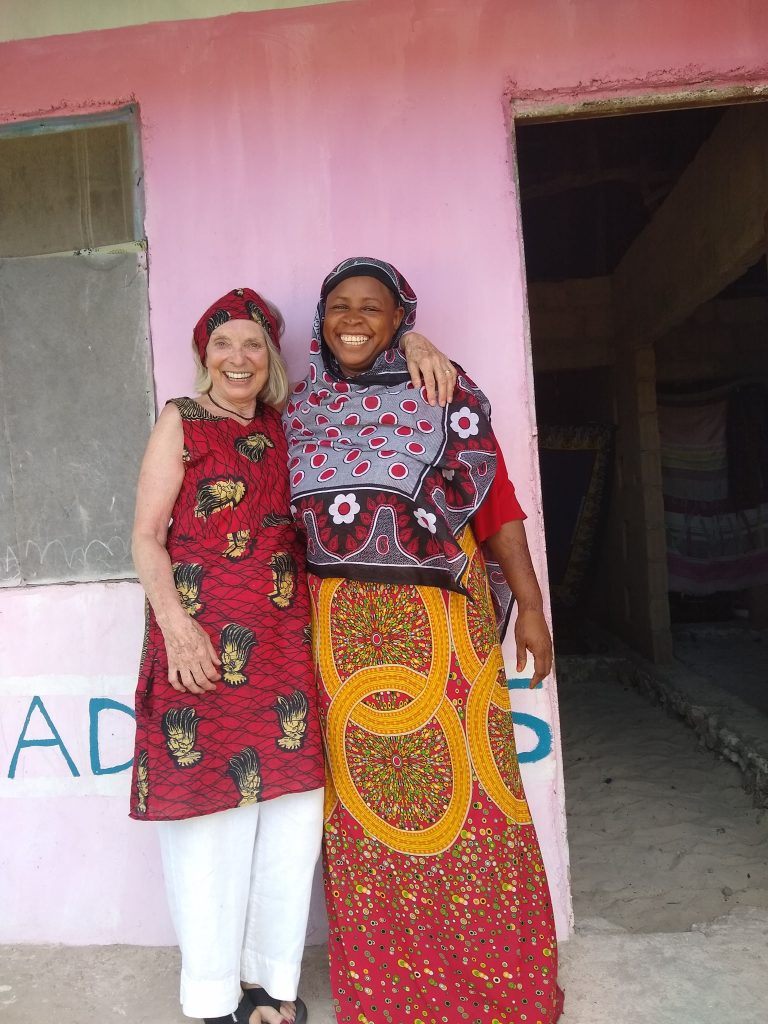 One day, our guest house arranged a snorkeling trip for us, and a new friend called Fatima, a Bolivian working for the UN in Tunis. That trip was the beginning of the end of our time in Zanzibar. From the blurb, we'd imagined the three of us under sail on a dhow, floating off to some unspoiled reef. As soon as we arrived at the jetty, we realised just how wrong we were: lines of coaches were unloading groups of tourists, and every dhow was sardine-packed with people. It perfectly sums up the problem with tourism in general, and the environmental impact of overtourism on Zanzibar in particular. There was no evidence of Covid anxiety in this crowd, nor among the dhow captains.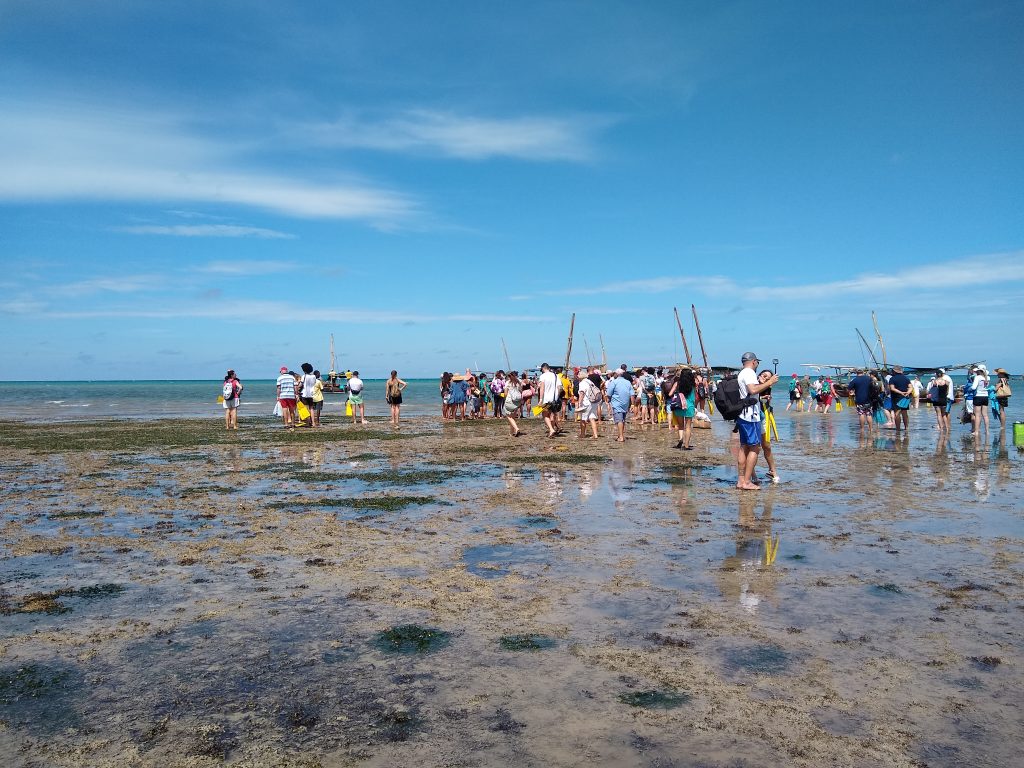 As for the reef, it was like so much coral the world over, bleached and dying, and therefore almost devoid of fish life. It's a conundrum. We as tourists want to see the beautiful marine environment, and we as tourists are largely responsible for its destruction. The huge increase of boats, dragging anchors over the coral, and the numbers of people they disgorge into the water have had a drastic effect on the Zanzibar reefs. It's a desolate feeling, looking at the consequence of our presence.
Two days later, we went to Pemba, an island which our Bellevue host described as 'like Zanzibar twenty years ago.'
In Pemba, it all came together. The opulent vegetation, broad-bladed banana palms, mangos dangling like rosy moons in the dark halo of their sheltering leaves, the searing green of the paddies. We looked at each other and smiled in satisfaction. Within a day, we'd found our immaculate reef, a few paces offshore, and finned our way up and down among shoals of bright fish. Vervet monkeys came to take a chance on stealing our picnic. Distraction tactics: baby would sit on the sand, looking appealing, while the parents sneaked up unnoticed. Our dhow took us to a sandbar of pure dazzling white. Along with our new friends from the guest house, we were the only people there. We lay in the shallows, glass of wine in hand, and thought nothing could ever be so perfect.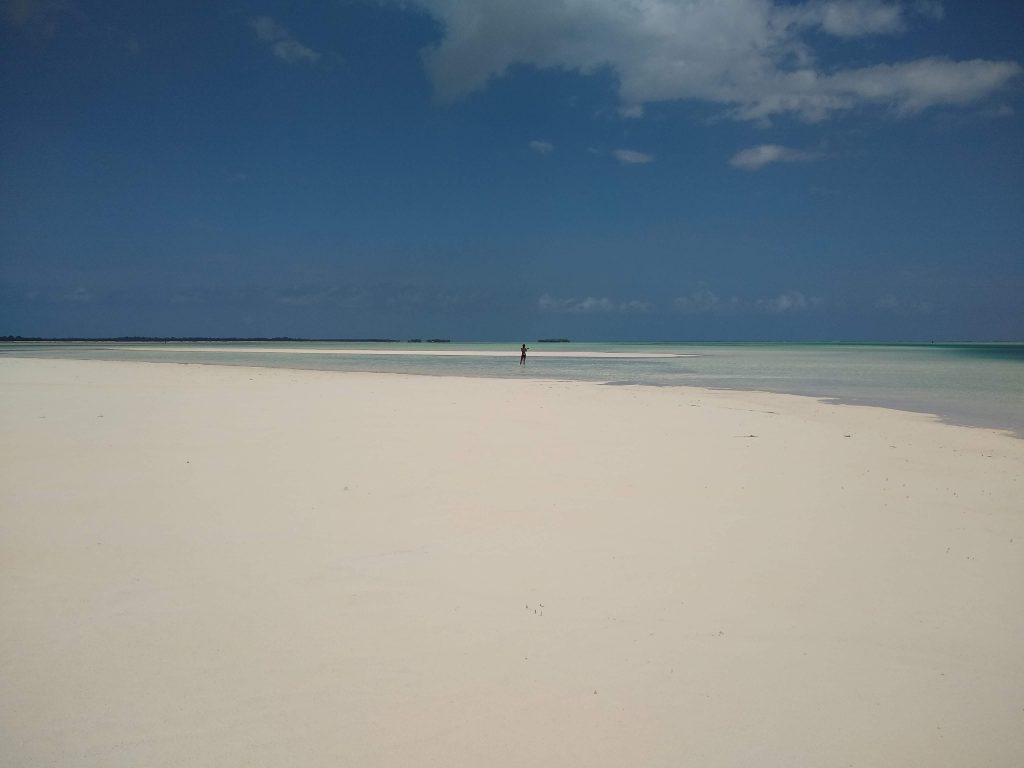 It was short-lived perfection. The first drumbeat of alarm came a few days later, at our next guesthouse. I spotted the only other traveller, on the balcony of her cabin, taking photos of a pyramid of toilet rolls against the backdrop of palm trees and blue water. 'Panic buying back home,' she said cheerfully. I sent a WhatsApp to friends: trust you're not getting swept away by virus hysteria. The reply: We don't think it's hysteria.
After which, the momentum was unstoppable. By the time we reached our final destination in the north west of the island, we were the last of the visitors. A Swiss couple, the only other guests, were determined not to go home. They sat one evening looking online as one country after another closed its borders. The Maldives looked fine. They booked tickets. By the time they flew to Dar es Salaam, the Maldives was closed to all foreigners.
At the same time, we were getting alarmed texts from friends at home. Check your flights! We asked our guesthouse manager, a Canadian dive master, to take a look. Sure enough, our flights had vanished. If it hadn't been for that dive master, we might be on Pemba still. He spent a long day haranguing the Zanzibar office of our airline, and finally managed to find two seats on a flight leaving three days earlier than we'd planned, and two seats on the plane stopping in Pemba on its way from Dar to Zanzibar.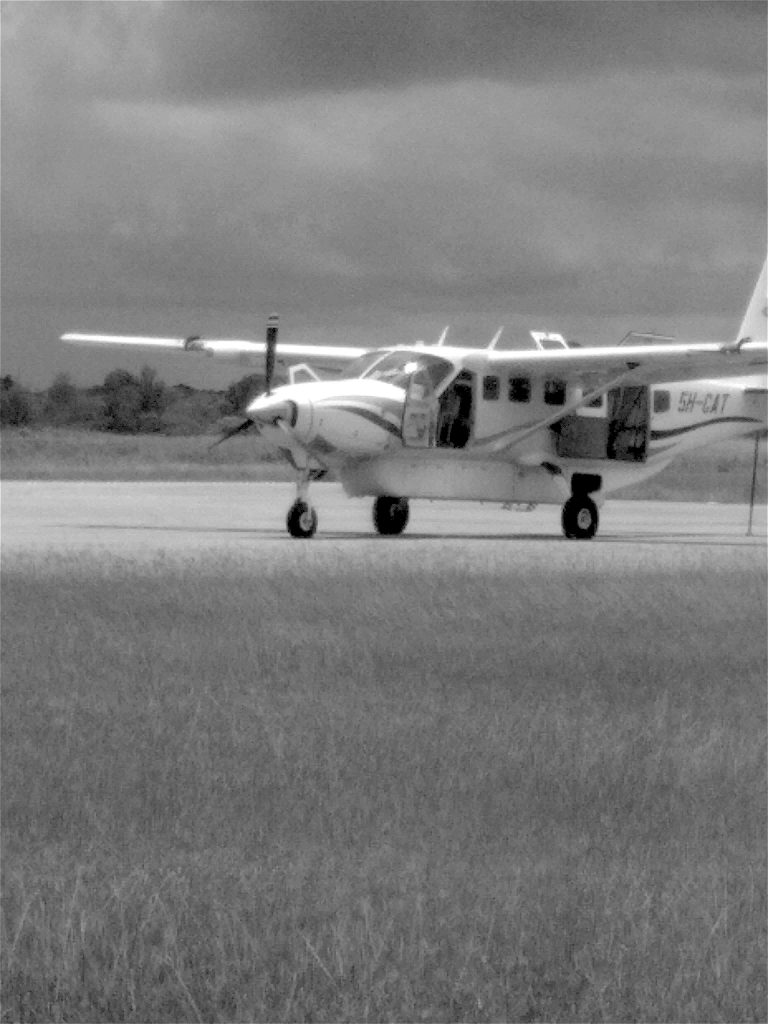 As our taxi sped through villages to Pemba airport, we heard the first of the shouts. Young men lazing under the mango trees stood up as we passed, shouting: Corona! Corona!
In Stone Town, out walking while we waited for our flight to Doha, we heard it again. Corona!
We were no longer welcome. I was sorry not to have spent more time in Stone Town. I loved the music, the restaurants, the architecture. I smiled to see the Freddie Mercury museum, a man who described himself as 'gay as a daffodil' being celebrated in this conservative town. But it was game over. We had to go home.
Back in Edinburgh, we heard from our friendly dive master. He'd contracted the virus, and would have died, had he not had enough in his dive tanks to build a system to flush pure 02 through his lungs, and then a mix of nitrogen and oxygen.
The reality of Covid had come to stay.
_____________________________________________________________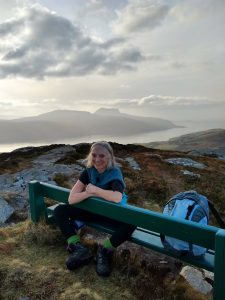 Della Matheson is a retired BBC Scotland news journalist. She lives in Edinburgh with her husband Ian, and spends much of her time, when she's in Scotland, roaming the hills of the West Highlands. She and Ian share a great love of travel, mostly in tropical zones throughout Asia, and are at their happiest when exploring marine life on coral reefs, from Raja Ampat to the Caribbean.
She's still dreaming of swimming with manta rays but that's for next time.