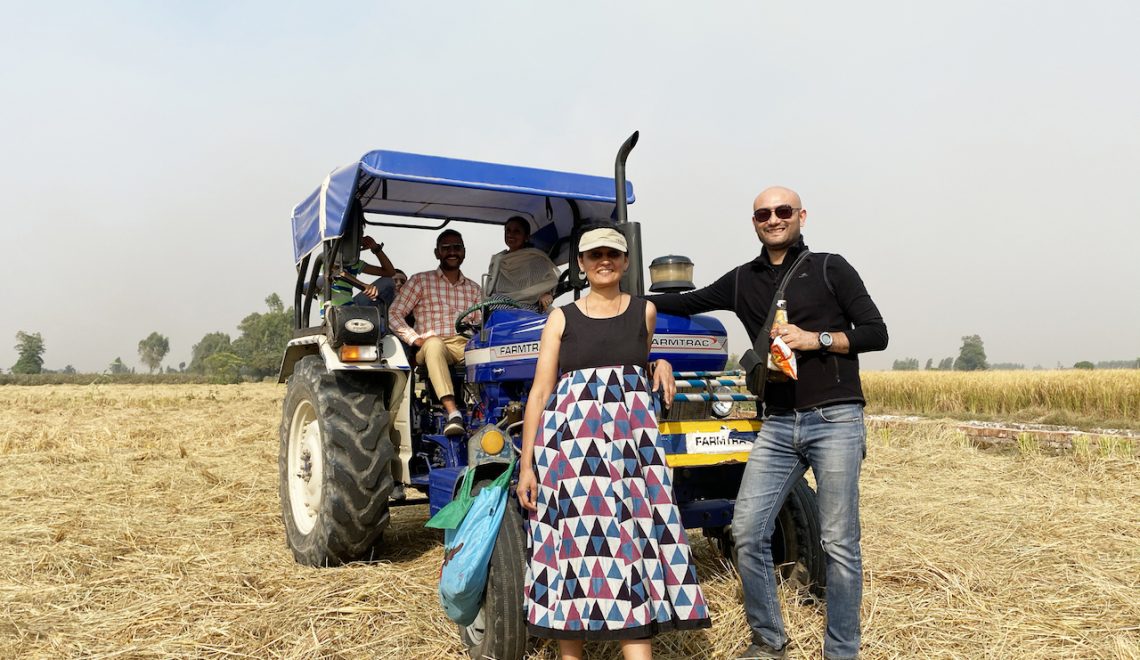 Designer duo Swati Paranjpe and Siddharth Khandelwal set off on a road trip spanning 3000 km in their quest to WFA (Work From Anywhere)
Text and images by Swati Paranjpe
Life is what happens to us while we are making other plans. In early 2020, my husband and business partner, Siddharth, and I were to visit Manali and explore setting up our getaway office and life. One we could test and go back to every year, so that the Himalayas would not simply be a holiday destination but an experience to be lived and explored gently.
Coronavirus had other plans.
From March to September 2020, our pigeon-holed existence in Mumbai – in a flat without a terrace or balcony – further tested us. So, in October, we decided to hit the road, on a journey with a destination but no clear roadmap.
Our travels are usually planned with art and design explorations dominating the trip itinerary. This time, with the changing laws during the pandemic, our trip had no set route or plan; it would be the first time that we'd let chance take over. We got in touch with friends and family we could visit on the way from Mumbai to Manali, our first stops being Ahmedabad and Udaipur. We loaded our car with a mini-office: two work tables and computer chairs, desktops and stationery. Then, a mini kitchen, with ingredients to cook along the way and dry food to last a minimum of ten days. Plus sundry travel paraphernalia for any untoward incidents on the road.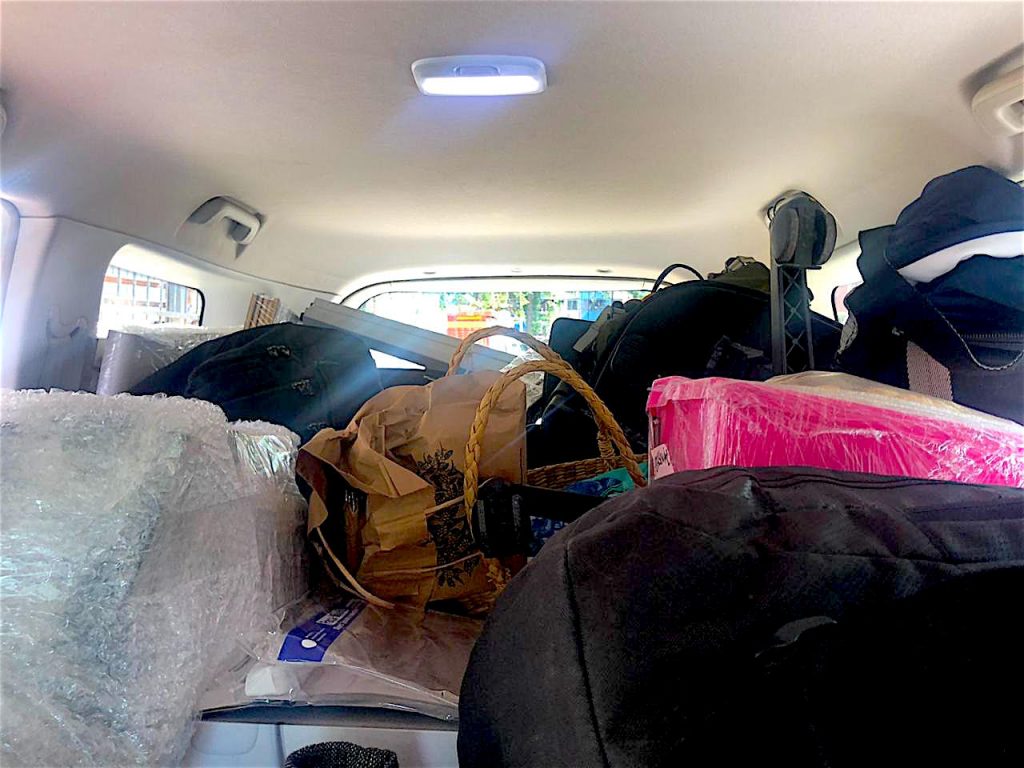 Mumbai-Ahmedabad-Udaipur
We drove from Mumbai to Ahmedabad via NH48, a road that is a testament to India's super highway to development. But like most highways, it isolates you from the experiences of the inner bylanes of India's small towns and villages.
En route to Udaipur, we decided to continuously update our route over short distances on Google Maps to get off the paved highway path, and drive through the lush green picturesque region of Himatnagar in Gujarat. As we entered Rajasthan, what caught our eye were the intricately painted NREGA (National Rural Employment Job Scheme) details on school and panchayat buildings, in every village, about 20-25 km apart. The truth and need of the time, a diary of job entries, that will be dutifully noted down on every millimetre of these yellow walls, between 2020-2023.
As we went past these wall diaries, I imagined and hoped that many job seekers from these parts had already received employment, their suffering from the initial months of the pandemic healed somewhat. I'd love to go back every year and document the updated entries. Compare visual notes. Observe whether the writing style remains consistent. Figure if the envisaged columns and rows were enough. In 2023, would the diary have enough space on the walls?
3 days in Udaipur
The next three days in Udaipur were a test to see how quickly we could set up and dismantle our temp office, catch up with friends and drive around the city. A potential work life balance on-the-go that would allow us to make as many stops as we liked along the way. Given that almost all public spaces were shut at this time, we decided to head to the Shekhawati region of Rajasthan, known for its heritage havelis with intricate frescoes and considered 'the world's largest open-air art gallery'. Being members of Neemrana Hotels, the village Bagar in Jhunjhunu, with its beautiful Piramal Haveli (a Neemrana property) made for an easy choice. But the drive proved to be long and arduous. In our decision to stay away from highways, we re-routed our journey to go through the mountainous jungle roads of Kumbhalgarh but the arid landscape after, enroute to Jodhpur, proved treacherous. After almost 11 hours of driving, the road turned a little greener in the semi-desert landscape bordering Haryana. The perfectly distanced khejri trees (from which comes sangri, the desert bean that goes into the Rajasthani delicacy called 'ker sangri') and kothis set amongst large expanses of land, make the northern Rajasthan landscape very unique.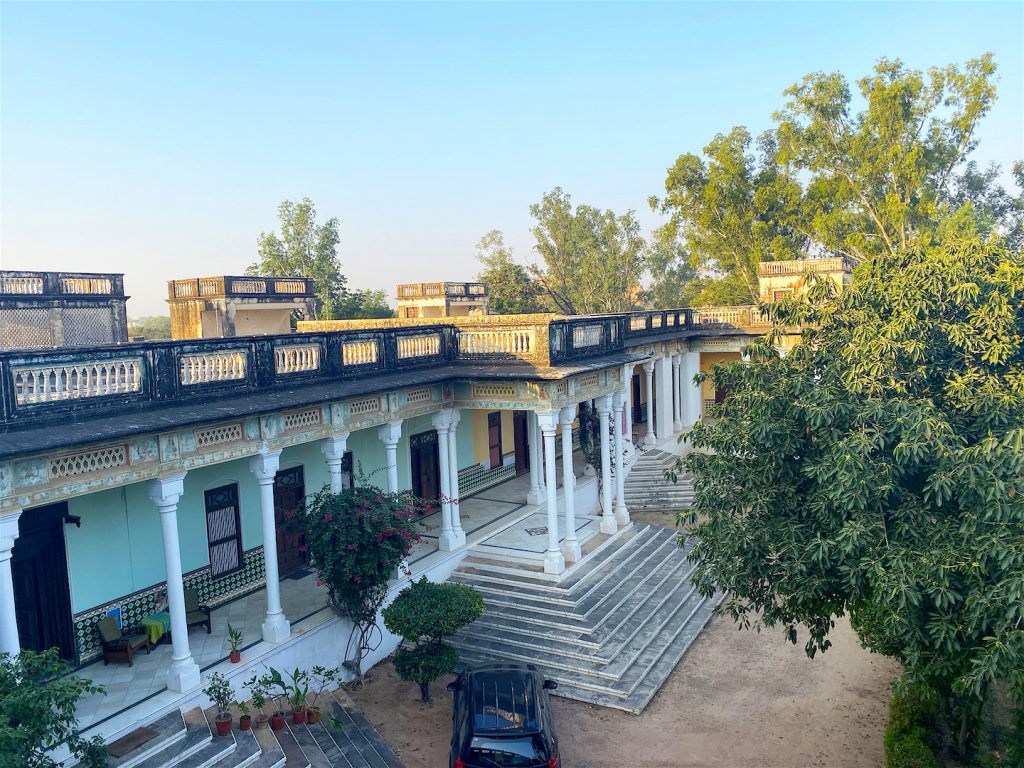 Bagar, Jhunjhunu
Once in Bagar, we checked into our heritage hotel, let go of our trepidation, ate food in the courtyard and mingled with the few strangers that were crazy enough to be there in the midst of a pandemic, like us. The Shekhawati region was once the mecca of Indian entrepreneurship and thrived alongside the Mughal and Rajput dynasties, until the British took over. Here, some of the wealthiest business families of India made early strides and took their spirit with them to the rest of the country. What's left behind is a painted history of ambition, prosperity and patronage of art and architecture. Over two days, we walked around Bagar and the surrounding villages. There were no guided trails, signages, information brochures or historical documents available here. What was available, however, was a large number of scattered havelis, almost all empty, some standing still, some falling apart, others in ruins and those waiting to be turned into shopping centres or new abodes.
With our hotel guide in tow, we prowled around with an insatiable appetite for every fresco within sight. We revelled in the stylistic evolutions, forms, colours and subjects. We got lost in imagining the lives of merchant families and the artists that thrived under their patronage. Our guide and the local residents we spoke with knew the families that owned the havelis and about their past and present glory. A few knew about the art but none knew about the artists. This unfortunate reality of our sub-continent – the anonymity of artists who have left such remarkable treasures all around us, together with the illiteracy of the arts among the common populace – has always baffled me.
For any culture aficionado, Shekhawat cannot be a two day sojourn. But two days will leave a desire to return and explore more. We left with this void.
Mansa, a prosperous village in Punjab, 5 hours from Bagar, would be our next stop to catch up with friends from art school.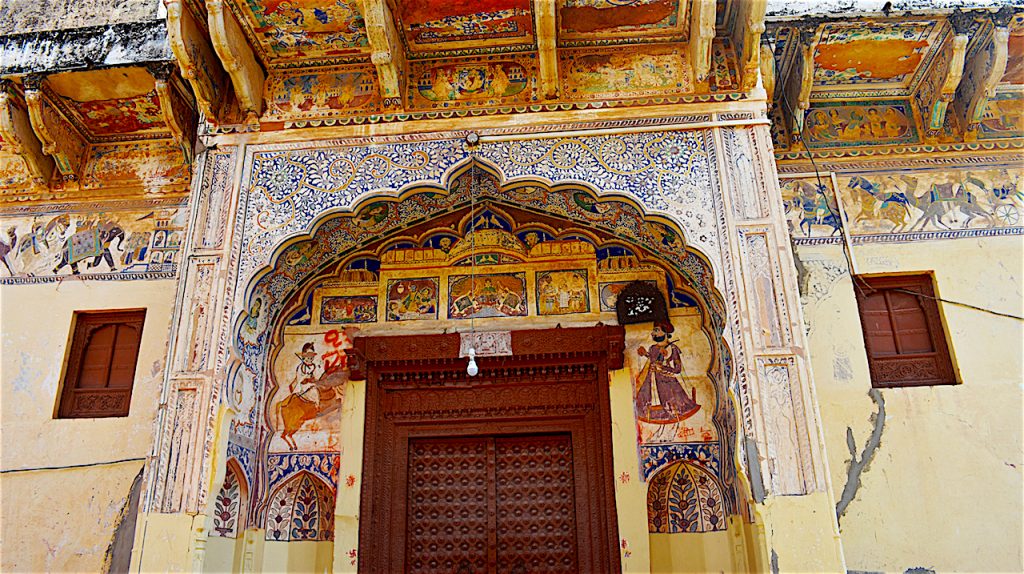 Via Haryana
Passing through the remote countryside of Haryana evoked an eerie combination of fear and curiosity. As we passed verdant villages and encountered sturdy women riding motorbikes – some with a gun strapped to their backs – the desire to mingle with the locals increased intensely, but we had been advised by local friends not to halt in unfamiliar territory. I do hope that the next time around, I can roam Haryana with one of these women, to see and feel the place with their eyes and experience.
Crossing two borders and traversing three states within a distance of 200 km is an amazing experience in observing the diverse cultural changes from dress and demeanour to landscape, architecture, food, language, music and cultural nuances – boundaries that are blurred in urban India. Sarson ka saag and makki ki roti, with lassi, had in the heartland of Punjab, served with a dollop of love, never tasted so good. They say it's the water of the place that makes a dish uniquely local. But I believe it's the people who make it special. The road cuisine of Himachal Pradesh is heavily influenced by Punjab but with the state's focus on tourism, we found the service, and thus the food, matter of fact.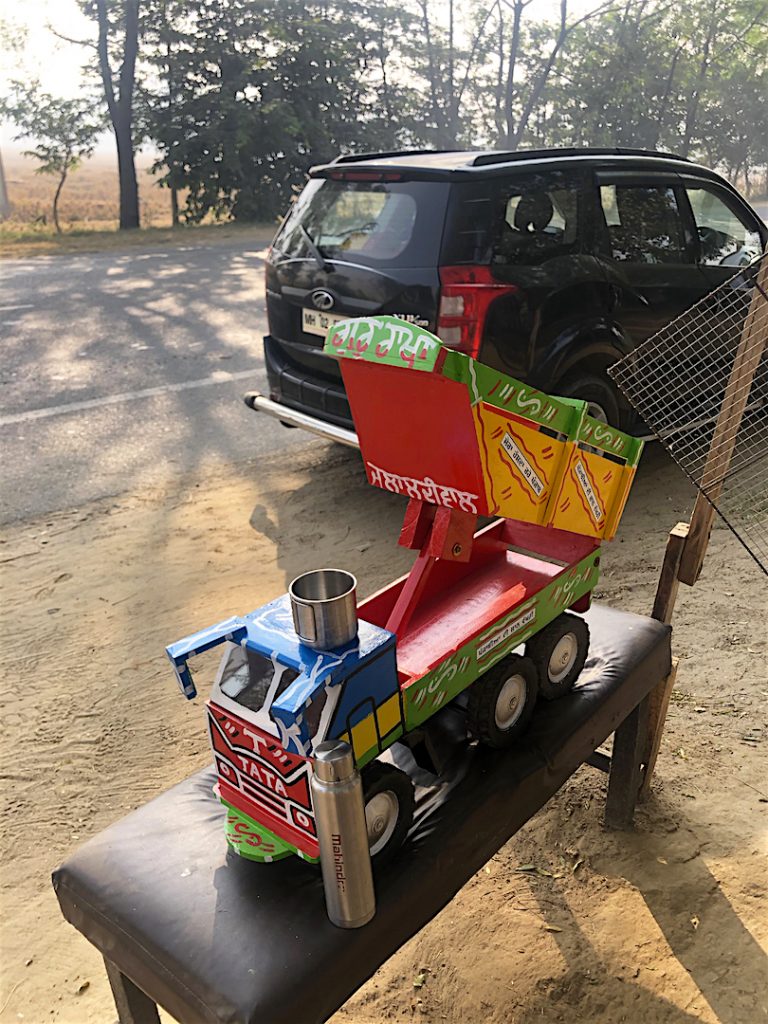 Mansa to Majach
From Mansa to Majach (a tiny village 30 km from Manali, our final destination) we were to cover almost 450 km. It seemed impossible to manage this in a day, considering that most of the terrain comprises the Himachal Ghats. But our concluding homestay seemed more alluring than stopping at a hotel mid-way. We left Mansa at 6 am and reached Majach at 11 pm, the longest drive of our trip so far.
The entire ride spanning nearly 3000 km fuelled a new spirit of adventure in us. We spent over a month in Majach, living and working as we had imagined, spending time with the village folk, travelling to Lahaul and Spiti, visiting monasteries and neighbouring villages, climbing mountains, taking long walks in the snow, buying from local markets, spotting rare wildlife, living without electricity in the freezing winter temperatures and learning from the zealous preparations of locals for the winter.
We travelled back to Mumbai in January 2021, having discovered much that was unknown to us until then. It has strengthened our resolve to keep wandering and discovering, and to keep learning from the self-reliance and resilience of India's heartland.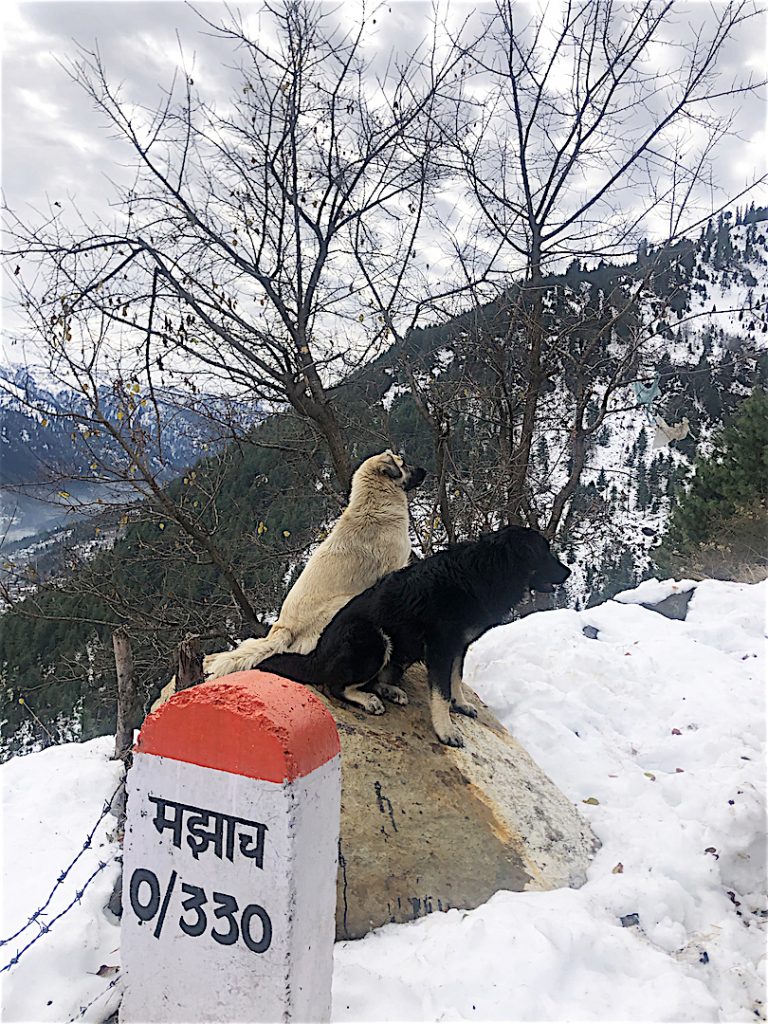 (Coming soon – an account of the sights, places and people from Swati and Siddharth's adventures in their forthcoming Pandemic Travel Diaries Part 2!)
________________________________________________________________________________________________
Swati is a designer, entrepreneur and social change dreamer who co-founded the brand atelier Two with her partner Siddharth. She believes that life is a series of chance encounters and that beauty can be found everywhere. You just have to look for it.