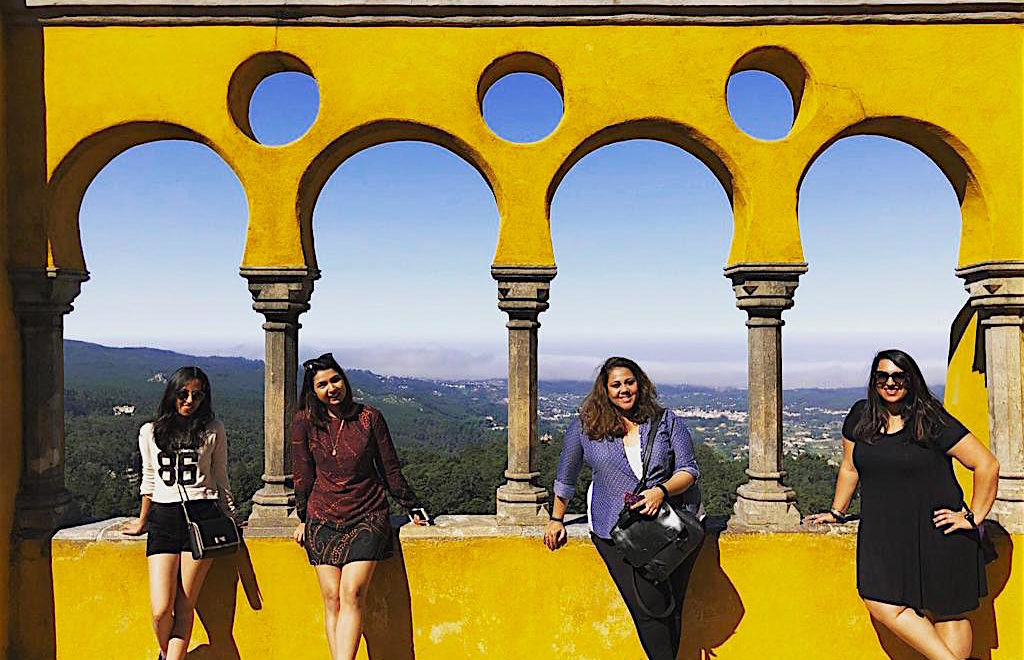 An all-girl road trip leads to delightful discoveries.
Text and images by Nicole Ferraz
Arguably, one of the best ways to find secret spots and hidden villages in Portugal, is by car. If you're lucky, really bad at reading maps and if the patron saint of travellers, St. Christopher (or São Cristóvão as the Portuguese call him) is, surprisingly, still on your side, you might stumble across a fisherman's village with houses painted in bright vertical stripes. Or you may take a wrong turn and find yourself at the gate of one of Porto's best Douro wine cellars. One way or another, every day will bring new adventures, new terrains to chart and new wines to try.
In the spirit of being spontaneous, my friends Rehnaz, Ketaki, Aarti and I booked accommodation only for the first two nights of our two-week trip. After that, we agreed to follow where the road took us or, as we quickly came to understand, where our hunger led us or where our bladders would take no further chances.
Discovering a new place by yourself or with a romantic partner is lovely but there are a few perks to travelling with your girlfriends. For one, you end up taking in more than just the sights and experiences of your interest, so we got to see Portugal differently, through each other's eyes. Two – if you're lucky, you're always accompanied by a solid team of photographers. Lastly, there's safety in numbers. In my humble opinion, there's a higher chance of someone robbing you while you sing Spice Up Your Life off tune at two am by yourself than when you're singing it while being accompanied by your equally inebriated friends at three.
On the Road: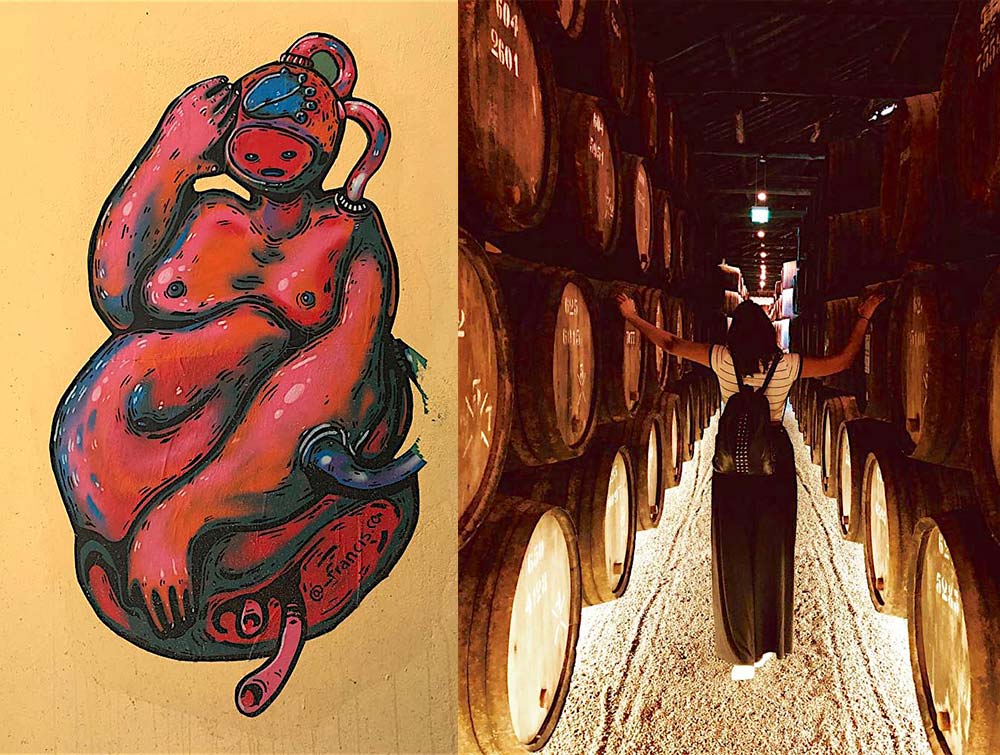 Lisbon
Lisbon spins tales of new and old. From ancient monasteries to environmentally aware street art, it speaks to all kinds. There were more than a few tourist attractions to keep us busy and plenty of restaurants and cafés to rest our weary feet and drink some local wines. But what was a breath of fresh air for us, was that we got to leave our fears behind and walk into the tinier lanes at night, where we stumbled upon rows and rows of little restaurants and pubs. Brightly coloured street buntings swayed in the breeze and enchanting fado music could be heard faintly under our own merrymaking.
Lisbon-Aveiro driving distance 256 km (about 2hr 20 min)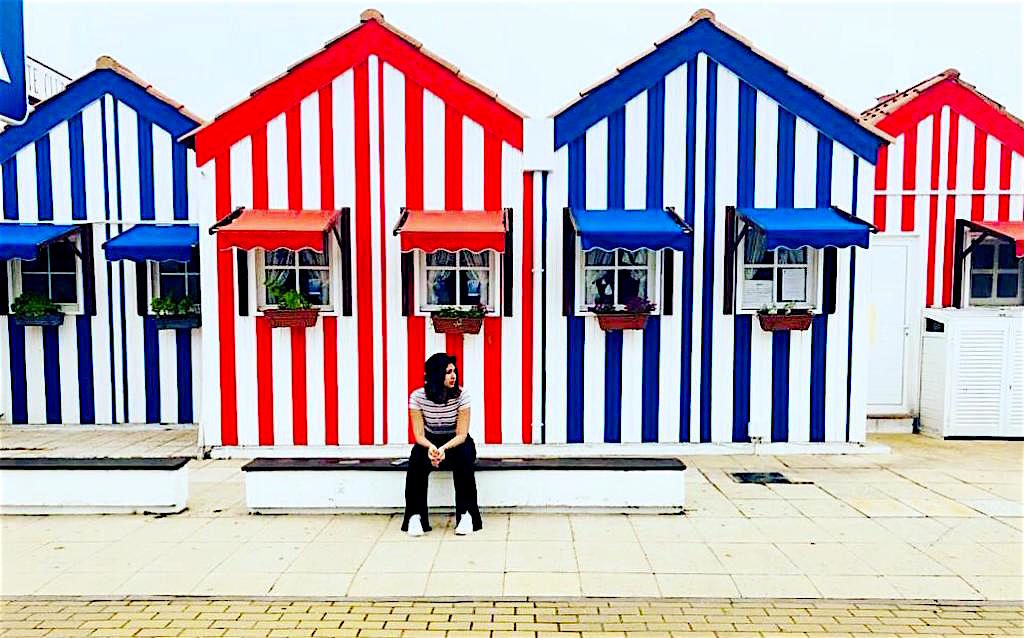 Aveiro
After bidding our tchaus to Lisbon, we rented a car, hit the road and drove north. Our ultimate destination was Porto, but we allowed ourselves the liberty to stop (read: make mistakes while navigating) at any place that we wished to explore. As luck would have it, my google mapping skills were not on point that morning, and we found ourselves in Aveiro, a little fishing village. Its picturesque canals and seaside restaurants made for great views, but there's nothing quite like the vertical striped houses at Costa Nova, just 11 km away. Once used to store fishing gear, these striking, colourful houses now make for delightful accommodation and are open to both locals and tourists.
Aveiro-Miramar driving distance 65 km (about 45 min)
Miramar
On travelling further north, we reached the village of Miramar. Along this beautiful coastline – also voted one of the top five most beautiful beaches in Europe – is a tiny chapel called the Capela do Senhor da Pedra ("Chapel of the Lord of the Stone"). Built precariously atop a rock, on the site of an ancient pagan temple from the pre-Christian era, it has remained miraculously intact despite the constant exposure to waves, and the elements. Inscriptions on the chapel acknowledge the pagan origins of the site.
Miramar-Porto driving distance 14 km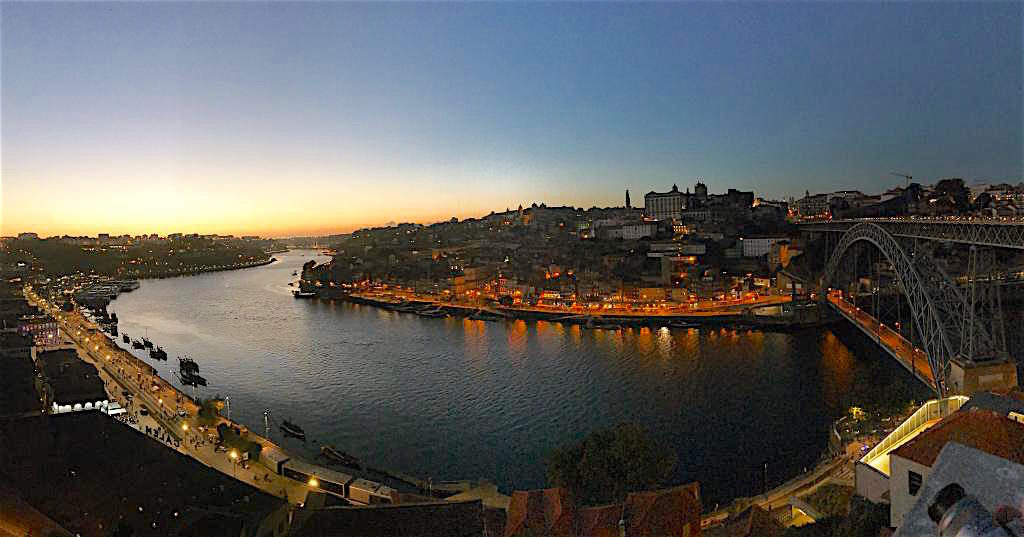 Porto and Gaia
Our final drive to Porto was nothing short of breathtaking with vineyards for miles on both sides. So it didn't come as a surprise that some of Portugal's best wines are fermented and mulled here. The Douro wine region is a little over an hour's drive from Porto and is known, particularly, for its Port and table wines.
Porto, also known as the City of Bridges shares six beautiful bridges with Gaia, the city across the Douro river. After taking the cable car to Gaia we got that iconic, bird's eye view of the city of Porto. Over at Gaia, you'll find the best Portuguese wineries and their grand lodges inviting you for tours of barrel-lined cellars and tastings, while acquainting you with its history.
Porto-Sintra driving distance 331 km (about 3 hours)
Sintra 

With castles and palaces that look like they're straight out of a Disney fairytale, Sintra casts quite a spell. It is perched amid the pine-covered hills of the Serra de Sintra and was famous for being a favourite holiday spot of Portuguese royalty. The architecturally brilliant 19th century Palácio da Pena can give you a breathtaking view from the second highest point in the Sintra Hills. The walk up might be long and tiring but the view it offers from the brightly coloured terraces of the palace, is well worth it.
Sintra-Vila Nova de Milfontes driving distance 218 km (about 2 hr 30 min)
Vila Nova de Milfontes
One of the prettiest towns down South, Vila Nova de Milfontes has traditional whitewashed houses and is located along the beautiful Alentejo coastline. Distinctly Portuguese in character, it has a vibrant energy all its own and a fun nightlife even though it's not quite on every tourist's list. Interesting trivia: Being a vegetarian, Aarti found this little town very vegan and vegetarian friendly.
Vila Nova de Milfontes-Lagos driving distance 90 km (about 1hr 30 min)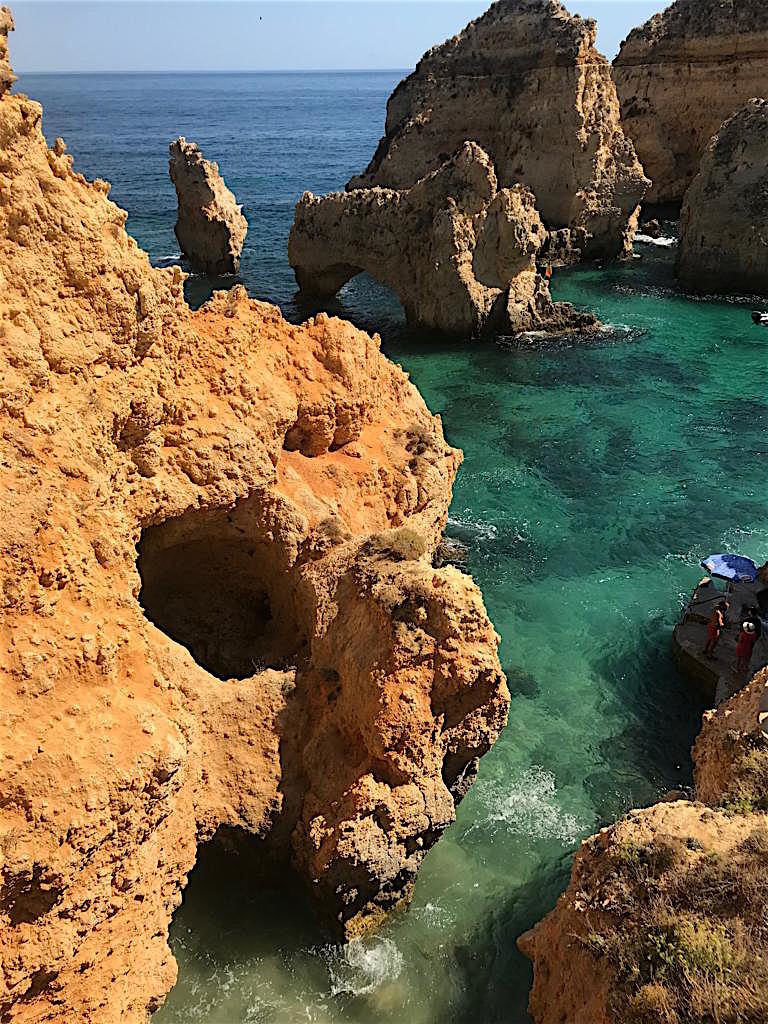 Lagos
Nothing really prepared us for the grottos, caves and beaches that Lagos offered. High golden sandstone structures stood tall in stark contrast with the turquoise waters of the sea below. We discovered many beaches conjoined by tunnels, and secret passageways. Praia do Camilo even had a not-so-secret cave with an open roof, redefining beaches as I knew them completely. During our journey, we visited one of the south's finest natural features, Ponta da Piedade, where cliffs of the headland were carved into rock pillars, natural tunnels and hidden grottos. However, the tops of the cliffs give tourists only a small view of the beauty that lies below. After huffing and puffing (I probably needed to cut down on the Pasteis de Natas – Portuguese custard tarts) my way to the bottom with the others, the experience of the headland from the water was nothing short of magical. Pretty much like the rest of our time in Portugal.
| | |
| --- | --- |
| | Nicole Ferraz lives in Mumbai. She is a writer, traveller and champion napper with a weakness for shopping, animals and fried prawns. You can follow her adventures and other antics on Instagram @ferraznicole. |
Nicole's Tips & Picks
Tips for your road trip:
Car rental
There are a number of car rental companies in Portugal. We used Avis. They were professional and we didn't have any complaints. Keep all your documents and insurance papers safely throughout your journey.
Flexi-plans
It's great to be flexible enough to stop anywhere you like, but keep a rough structure. This ensures that you stay on track and don't kill too much time in places that don't require so much of your vacation time. Make a rough list of all the touristy things you want to do and you can add and remove things on your list as you go.
Bye bye Kitty!
Appointing someone 'Head of the Kitty' is old school. Instead, download an app to manage your finances. We used Splitwise, a free tool for friends to track bills and other shared expenses.
Pack Light
Stick to one bag per person. The lighter your bags, the less you have to worry about carting too much baggage all over the place (especially up slopes), and the more space you have in your boot.
Reviews are good, locals are better
When visiting the touristy places on your list, trust a local resident's opinion more than a guidebook! Check with a local (beforehand, if possible) if there's anything you should know, or for any places you must visit around the area. Or simply ask for a restaurant/ bar recommendation. Locals always know the best spots!
Take a chance with the stay
While on the road, we booked hotels and apartments at the very last minute. It often helped us get the best rates. We're talking a day before our arrival, sometimes even less.
Restaurants & Bars
Lisbon: Ramiro, Av. Almirante Reis nº1 – H, 1150-007 Lisboa, Portugal
Aveiro: Bronze Seafood & Lounge Bar, R. da Nossa Sra. da Encarnação 10, Aveiro
Porto: Gazela Cachorrinhos da Batalha, Tv. Cimo de Vila 4 10, 4000-171 Porto, Portugal
Gaia: Espaço Porto Cruz, Largo Miguel Bombarda 23, 4400-222 Vila Nova de Gaia, Portugal
Vila Nova de Milfontes: 18 e Piques, Largo do Rossio n° 18 RC esq., 7645-310 Vila Nova de Milfontes, Portugal
Lagos: Julia's Algarve, Julia's Beach, Praia Do Garrao, 8135-170 Almancil, Portugal
Three Monkeys, R. Lançarote de Freitas 28, 8600-605 Lagos, Portugal
Wineries in Porto
We visited Taylor's
Other famous wine cellars: Calem, Croft and Graham's Port Lodge.