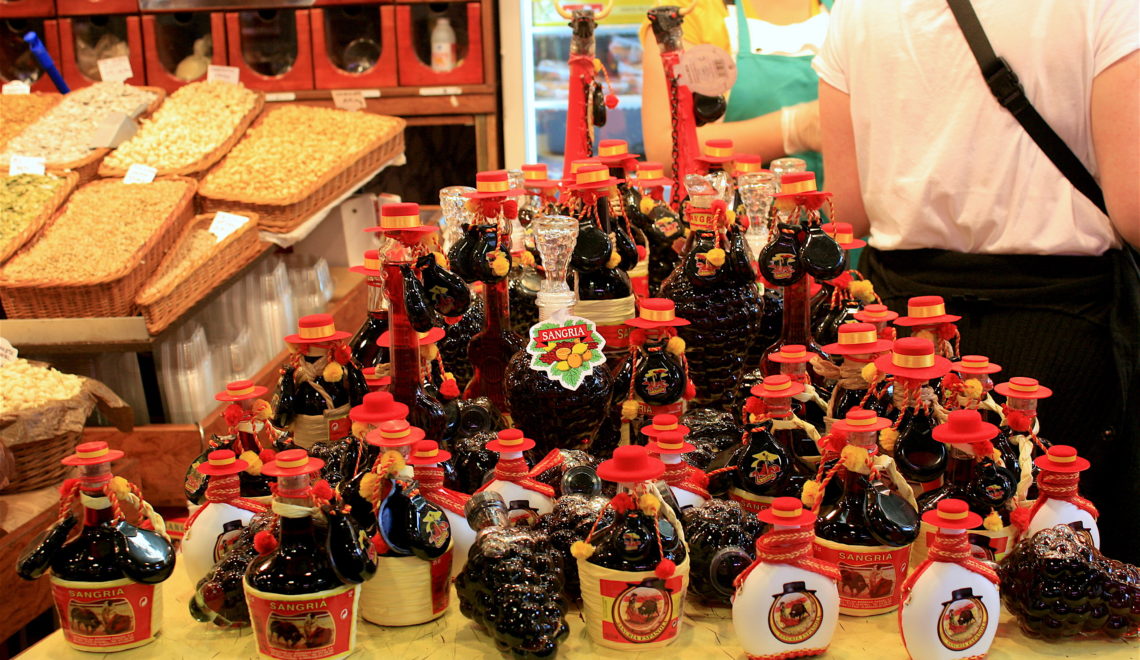 The vibrant capital of Spain's Catalonia region is a heady mix of edgy art and architecture, markets and bars.
At once charming and quirky, a visit to Barcelona is like gaining entry into an eccentric fairytale. A merry mix of historical delights and modernista wonders – the latter, without doubt, staking their claim upon the city – this is paradise for travellers with interests as varied as art and architecture to football and gastronomy.
Located in Catalonia, a region that asserts its own distinct identity from the rest of Spain, Barcelona has been in the news for the Catalan demand for independence. Much like what it stands for, Barcelona is spirited and feisty, its individuality manifested in its genius. To visit Barcelona is to pay homage to the Holy trinity of Catalan modern art – Antoni Gaudi, Joan Miro and Pablo Picasso (although Picasso was from Malaga, he grew up here and the city was his muse). Once you've made a beeline for the marvellous Sagrada Famillia, you'll discover there's more to the city than its most famous landmark. Take the time out for a languorous exploration of its less celebrated architectural gems, museums (the city even has a Museum of Chocolate, Museum of Erotica and a Museum of Illusions), markets and bars. To stay, seek the old hostales in the city's residential parts rather than hotels in popular areas.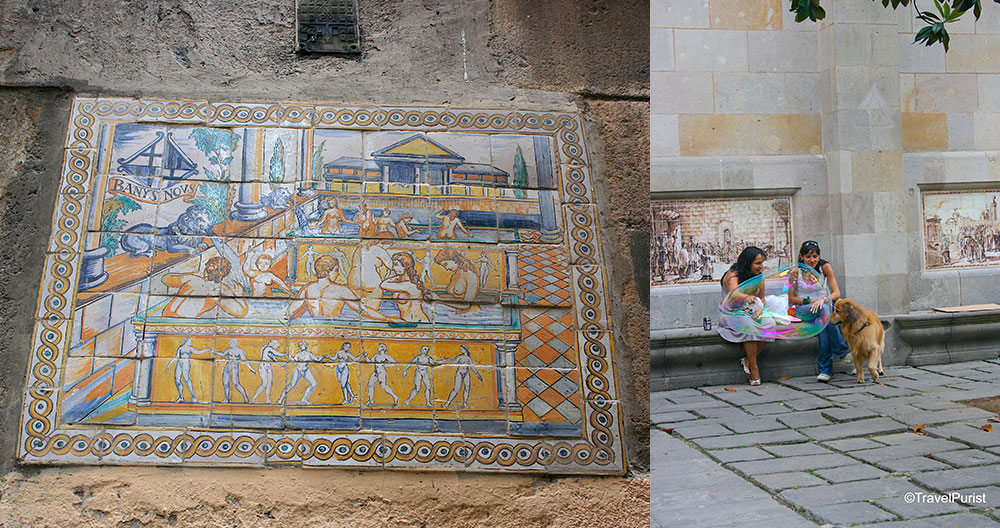 Football fans and followers of Barça or Futbol Club Barcelona (FCB) usually head straight to its home stadium, Camp Nou, for a match, if they're lucky. With a seating capacity of 99,354, it is the largest stadium in Spain and Europe.
The most touristy thing you'll do in Barcelona, if you want to soak in the popular Barcelona vibe, is wade through the selfie-taking crowds of the Las Ramblas promenade. Do it at your own peril but here's a bit of advice – stay far, far away from the flamenco shows and paella on this stretch.
The Modernista Trail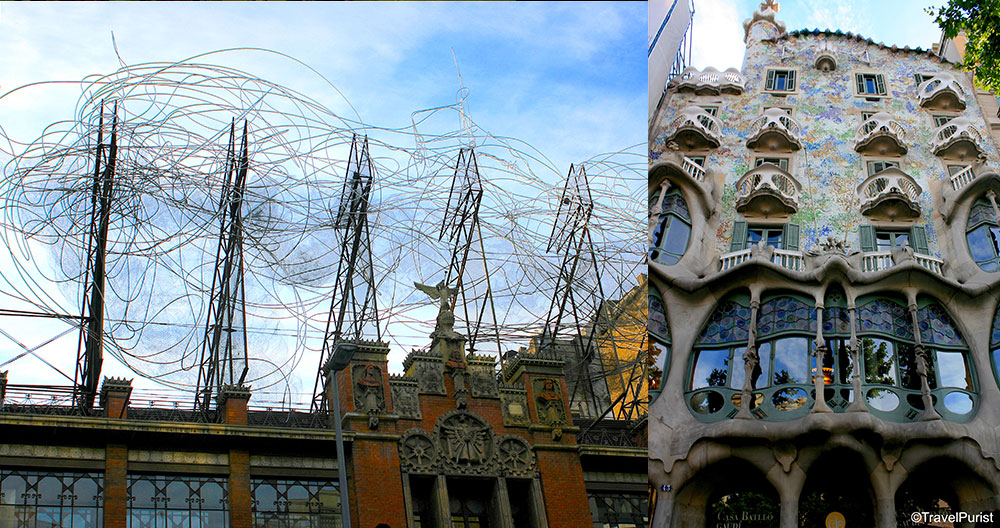 As the birthplace of Catalan Modernisme, the artistic movement that gives the city its unique identity through its architecture, Barcelona is a mecca for architects and architecture enthusiasts. The neighbourhood of L'Eixample (pronounced luh-shomp-luh) is a glittering example – forgive the pun – of this whimsical style.
There are about thirty notable Modernista monuments but the Quadrat d'Or is where you will find a concentration of the major ones. Begin with the Basílica i Temple Expiatori de la Sagrada Família, the modern world's longest and most legendary work-in-progress, and a UNESCO World Heritage Site. Gaudi's masterpiece, a legend in the making since the laying of its cornerstone in 1882, has been a draw for generations with the ongoing construction only 70% complete. Even as you admire its artistic details, look out for features such as the mysterious 'magic square' code on its Passion façade. To the west of the Sagrada Familia lies Gaudi's remarkable Casa Milà (also a UNESCO World Heritage Site) with its wavy, rock-like façade and Casa Battló with its dragon-backed roof. Next door to Battló, is the beautiful Casa Amatller designed by Josep Puig i Cadafalch, while two buildings down is the Casa Morera by Lluís Domènech i Montaner. Other gems in the area include the Fundació Antoni Tàpies, Hospital de Santa Creu i de Sant Pau, the Museu del Modernisme Català (MMCAT) that is dedicated exclusively to Catalan Art Nouveau, and the Parc de Joan Miró. Past L'Eixample, in Zona Alta, lies the famous Parc Güell – an otherworldly park designed by Gaudi. Meanwhile, the work of Barcelona's other great – Picasso – is enshrined in the Museu Picasso, located in the chic neighbourhood of La Ribera.
Markets, Bars and Tapas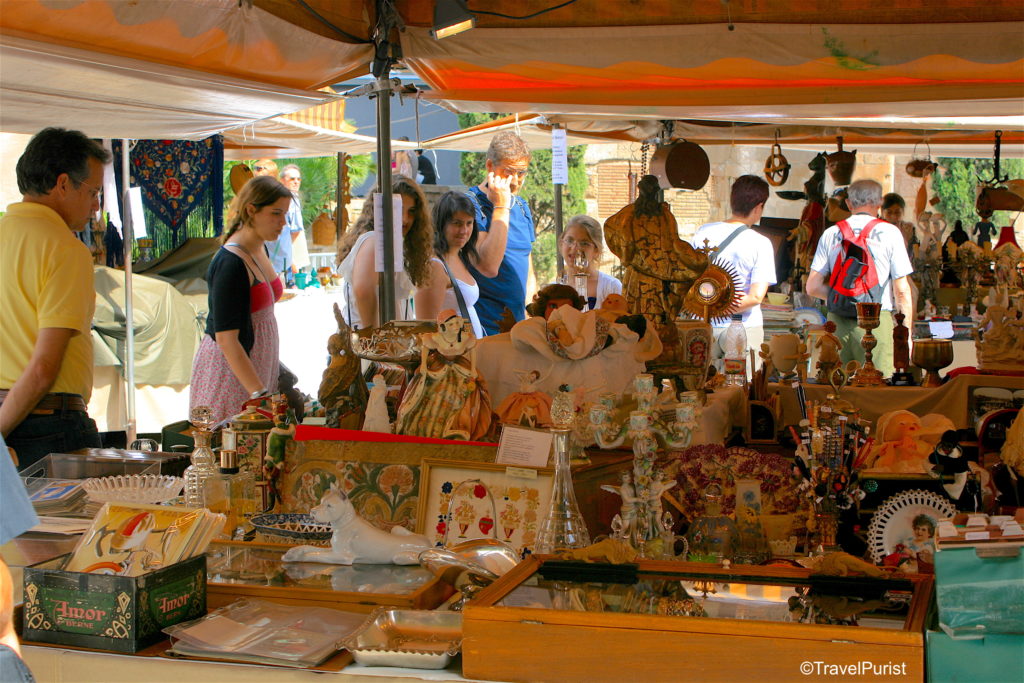 Barcelona's mercats or markets are teeming with life. While the iconic La Boqueria, the largest market in Spain, bedazzles you with its history – it dates back to the 13th century – as well as its varied produce, the city has more for you to browse at leisure. These range from flea markets where you could stumble upon antiquarian odds and ends such as old comic books and trinkets, to freshly made preserves at local farmer's markets. You could look for bargains in the market just outside the Catedral De La Santa Creu in the charming Barri Gotic area or visit the Sant Antoni Sunday Market – the 'biggest book, magazine, postcard and video game market in the world', among others.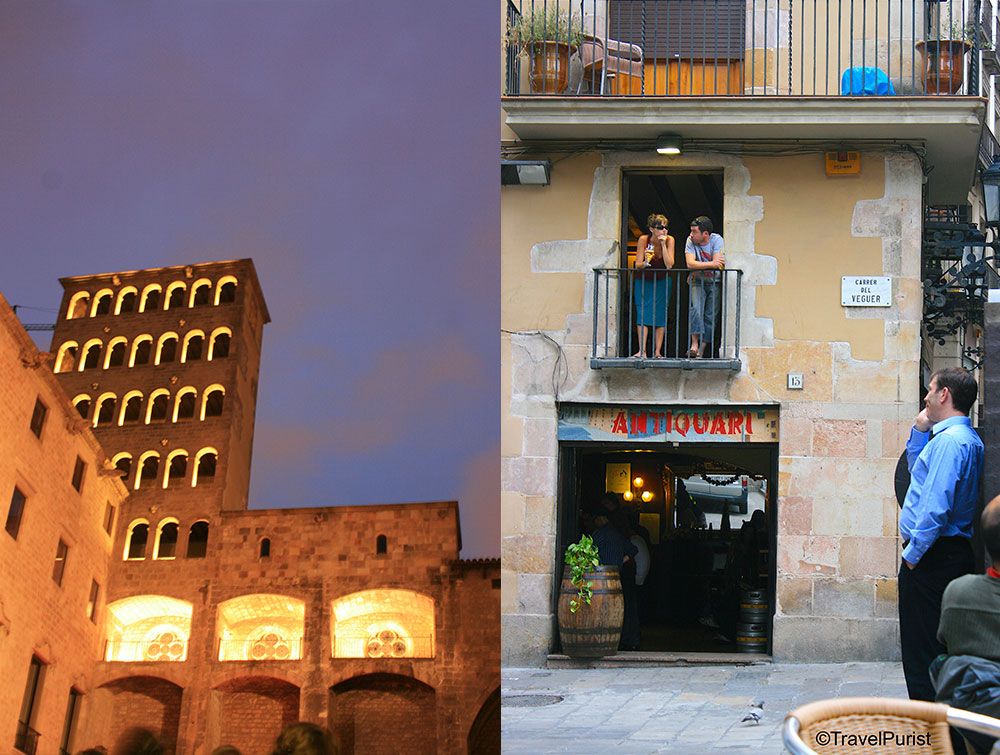 There are many reasons to hang out in the lively Barri Gotic, or the Gothic Quarter, of Barcelona. Among these are the many bars that serve sangria, cocktails and tapas. Just outside the archeological sight of the Museu D'Historia de la Ciutat (Barcelona City Museum) with its 1st to 6th century excavations and Roman ruins, is L'Antiquari ('The Antiquarian'), a delightful bar that lives up to its name and neighbourhood. Furnished with restored furniture and old bric-a-brac, it is reminiscent of an antiquarian store and claims to serve the best mojito in town. Meanwhile, if you're looking for a pit stop during your Modernista Trail, try O'Retorno, a Galician bar that serves free tapas with beer. If you're feeling adventurous, other dishes include Galician octopus and sow's ear as well as traditional seafood. And if you're at Museu Picasso, head nearby to the atmospheric old 1930s bar called El Xampanyet, for a drink and date with history.
Beaches and Bird's Eye Views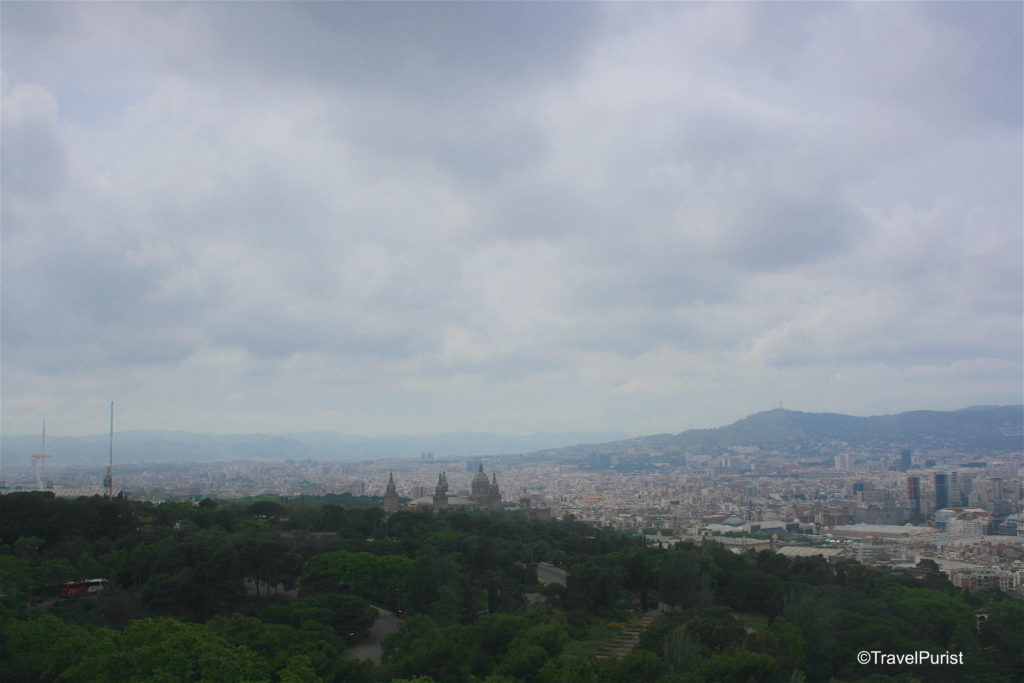 Barcelona has a bustling waterfront and is surrounded by the beautiful Catalan countryside, both of which afford beautiful views of the ocean and the mountains. The beachy, touristy area of Barceloneta, however, is best viewed from a distance and there's nothing better than the cable car ride to Montjuic for that. The ride takes you to Montjuic Castle, a serene hilltop fortress with a panoramic view of the surrounding landscape. In the area are a park as well as the Fundacio Miro that houses and displays a large collection of the artist's best works of art.
If you're looking for a tranquil beachside getaway from the city, head to the dramatic coast and quaint fishing villages of Costa Brava, famously associated with Salvador Dali. Visit his house, Casa Museu Salvador Dali as well as the Teatre-Museu Dali in the village of Figueres to see his wild Surrealist creations even as you get your fix of the Mediterranean Sea.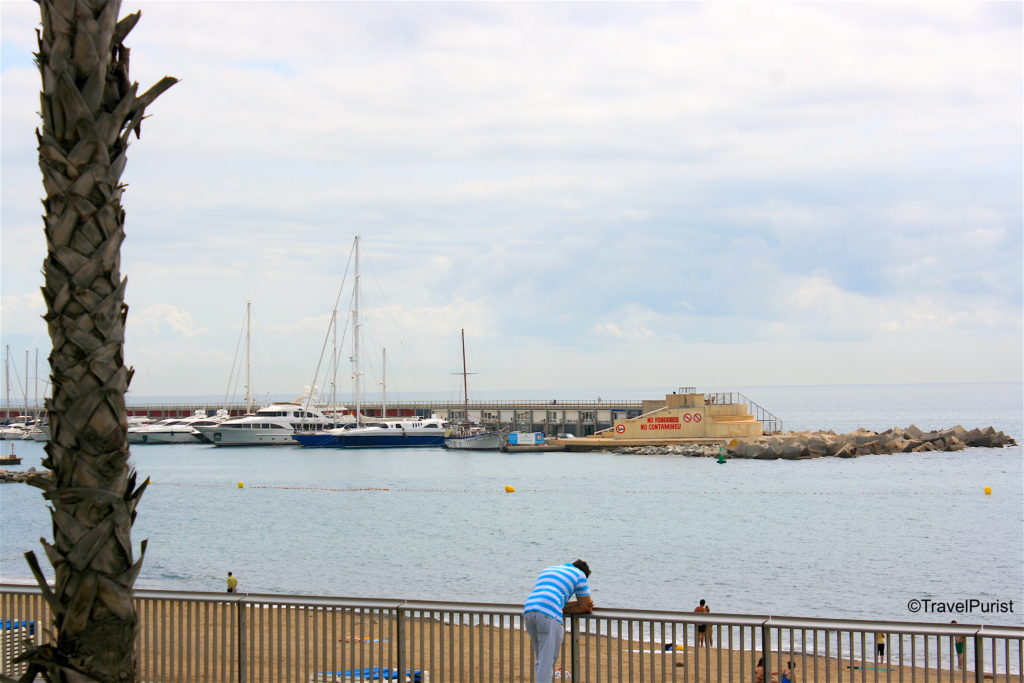 PLAN

Barcelona is a city that exudes youth and exuberance, which also means that it never sleeps; dinner is served late and one can be out till the wee hours. There is no one way to do Barcelona so select those aspects of the city that appeal to you. The easiest way to do it is to divide the city into its neighbourhoods and explore a different one each day. The city is well-connected by public transport that includes bus, metro, train, tram, taxi as well as cable car to some places. It has an integrated fare system with a common travel card that may be used for metro, tram and FGC (train).

Those looking for an easy way to trace the Modernista Trail can buy a Ruta del Modernisme pass. For Costa Brava, buses and trains leave for Figueres, Cadaques and Girona from the city centre and the ride takes about 2 hours.