Find a piece of Bali at this popular Indian beach destination.
Text by Travel Purist
A red dragonfly hovers over a Koi pond, the whirr of its wings accompanied by the splashing of fish whose orange-dappled scales radiate the colours of the sun. Koi carp fish symbolise good fortune in South East Asia and one is fortunate indeed to be on this piece of Balinese paradise in Goa. Aptly called Summertime, this sprawling villa is a luminous, sun-drenched space spread across two acres and surrounded by trees and birdsong. A stone Buddha presides over a mini-waterfall and keeps a watchful eye over the vast infinity pool. A turquoise door, shielded by a vivid magenta-purple Cordyline or Ti plant, leads to nowhere and is the villa's signature flourish.
Bathed in silence marred occasionally by the calls of peacocks, Summertime seems suspended in limbo. Located on a small hillock, it is hard to believe that this tranquil villa lies on the outskirts of Calangute, Goa's most popular beach and party hotspot.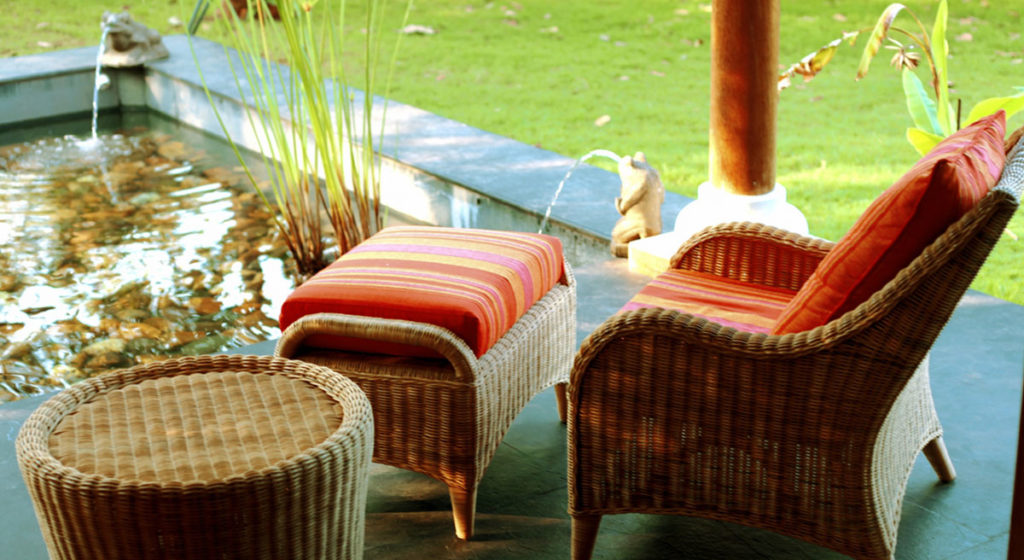 "This is a place for writers, readers and people seeking a quiet getaway," says Sucheta Potnis who, together with her husband Hans Tuinman, conceptualised and created Summertime. Residents of Goa for the last 26 years who spend most of their monsoons in Bali, the couple has imagined the space themselves, drawing intricate plans and working closely with engineers to build this three-bedroom villa in the Balinese architectural style. Each bedroom is unique in its décor but the Koi Suite or the master bedroom that opens out to the Koi pond is a winner, not only for its picturesque sit-out but also for its grand bathroom – the size of an entire room in itself – that overlooks its own private garden. Meanwhile, a high-roofed wood-and-glass common living area has a charming book-sofa and other reading nooks. Bird-themed sculptures, paintings and artefacts reflect the rich birdlife on the property.
Once a hippie getaway, Calangute was where open air rock and beat shows of the sixties and seventies gave way to the raves and trance parties of the eighties and nineties. The Calangute-Baga stretch continues to be known for its frenzied nightlife that includes the nightclub Tito's and various night markets. But it also has a thriving art scene with spaces like Art Chamber and Kerkar Art Complex as well as Museum of Goa in nearby Candolim; the lovely Literati Bookshop and Café , too, is located here. While Calangute Beach itself is far from the untouched, pristine sandy fishing village that had once enchanted the hippies, it is less than an hour's drive from the more amenable beaches of Morjim, Ashwem and Mandrem that lie further north.
The secluded Summertime, say the owners, is located on the "last green lung" in Calangute; older local residents recall berry-picking excursions here. The Coral Suite on the first floor of this award-winning villa with the enviable title of 'Asia's most romantic retreat', overlooks trees and paddy fields. "I'm a tree terrorist," proclaims Sucheta, who has made it her mission to conserve and increase the greenery along this stretch; Summertime itself is populated with plantain, mango, frangipani and other tropical vegetation, complete with an organic vegetable garden.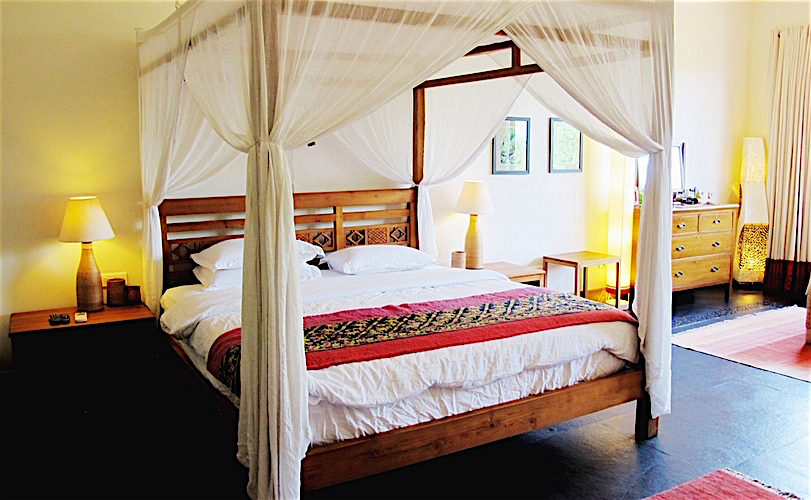 Sucheta and Hans live next door to the villa and run a boutique travel company from just across the road. Hans is of Dutch origin and an anthropologist by education who first visited India as a student specialising in the study of untouchability in India. They were business partners before they became partners for life. Together, they own the luxury yacht, Solita, that departs from Britona jetty, cruising the Goan coastline and down the peaceful backwaters. Partnering them in their endeavours are their children Shalome Potnis Tuinman and Vardhan Kondvikar, both travel writers once attached to the Lonely Planet Magazine in India.
Over a delicious home-style dinner prepared by Summertime's resident cook, Dinesh, the couple regales us with their stories ranging from vivid descriptions of Goa in the eighties to their bohemian beach wedding ("we simply toasted to each other with a rum punch and exchanged garlands on the beach"), and the challenges and joys of their pet projects – Solita and Summertime. As the sun goes down and the evening surprises us with the last of the monsoon showers, it's their personal touch that makes Summertime special, infusing it with cheer and warmth.
Plan
When: November to March is when the weather is pleasant in Goa but if you're not hung up about swimming in the sea, the monsoon – from June to September – is when the state is lush and beautiful.
What: Visit Art Chamber, Kerkar Art Complex , Museum of Goa and Literati Bookshop and Café . If you'd rather stay indoors and revel in the joys of Summertime, the villa also offers spa services.
Eat & Drink: There are plenty of good pubs and restaurants in the vicinity – visit Souza Lobo for traditional Goan cuisine and A Reverie or Amavi for fine dining. But chances are you will forfeit these for the delicious meals (Indian and international cuisine) and birdsong at Summertime. The cook, Dinesh, and help, Prakash, ensure that guests are well taken care of. Summertime also has its own organic produce, homemade muesli and seasonal fruit smoothies.