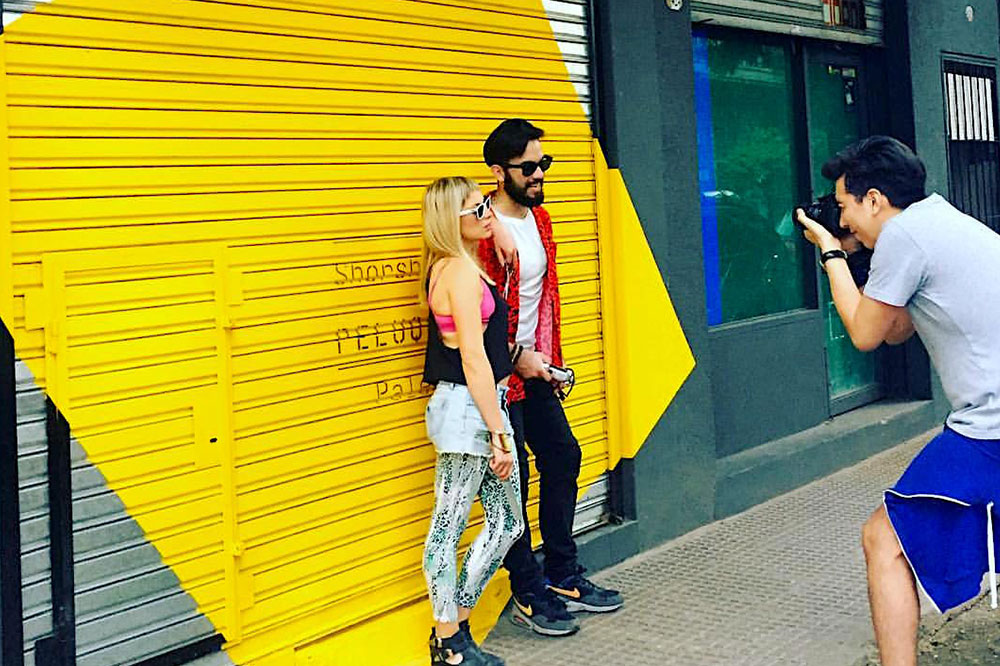 Football, food, design and culture – Mathilde Yvert Rankin, a 'Porteño' for two years, guides us through this passionate city.
By Mathilde Yvert Rankin
There are two facts that, to me, say a lot about Buenos Aires: one, the city is said to be home to the maximum number of bookstores per capita than any other city in the world (according to a study by the World Cities Culture Forum in 2014). Two, Argentina has more psychologists per capita than anywhere else in the world, and half of them, according to CNN, are in Buenos Aires. It tells a lot about the city and its people. In a way, they are in the constant pursuit of learning and understanding life and themselves. Both, the Porteños (as inhabitants of Buenos Aires are called; the city is the principal maritime port in Argentina, hence people that are from the port) and their charming city have many layers, waiting to be discovered and revealed.
My husband and I arrived in Buenos Aires from NYC in early 2016. My husband's company is headquartered here and we wanted to discover something new so we moved bag and baggage. It has been two years since. I liked Buenos Aires when I came here as a traveller for holidays. I love it now.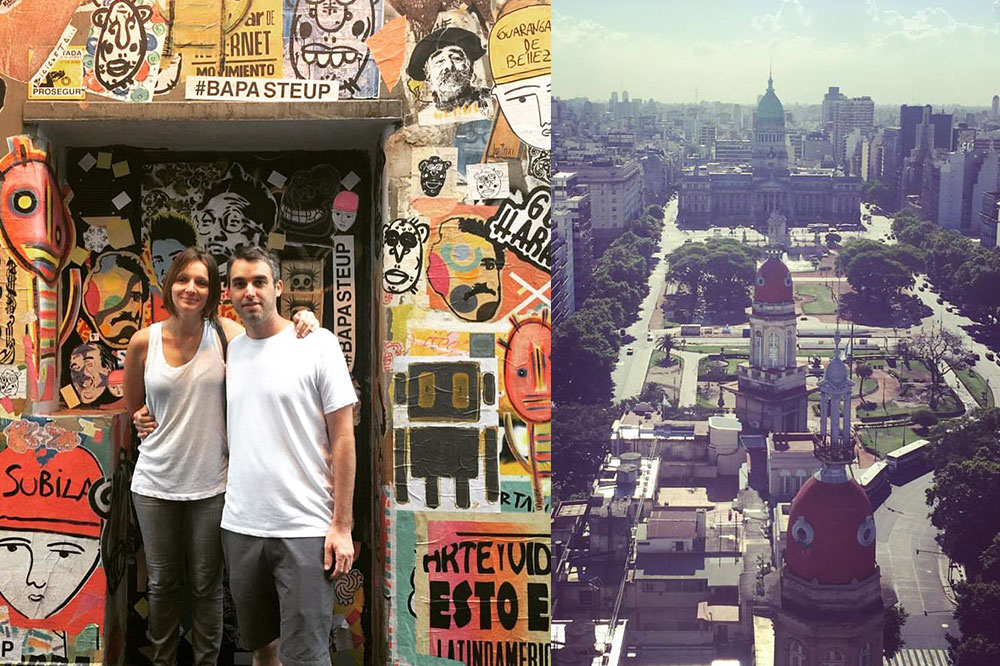 Left: Mathilde with her husband Brandon Right: Plaza del Congreso (Image credit: Mathilde Yvert Rankin)
Despite a tumultuous history and, at times, a frighteningly shaky economy, Argentina and its capital Buenos Aires have been offering to their people services that I believe make for a good society: a free or cheap and superior transportation system, education, health, and culture. But what's more, the city – the second largest metropolitan area in South America – is the place of the many passions that Porteños live for, namely, sports, food, design, arts and culture. The people of Buenos Aires live all of these in a particular pace and manner that reveal a certain 'savoir vivre' as the French would say – a certain way of knowing how to live a good life.
PASSION 1: FOOTBALL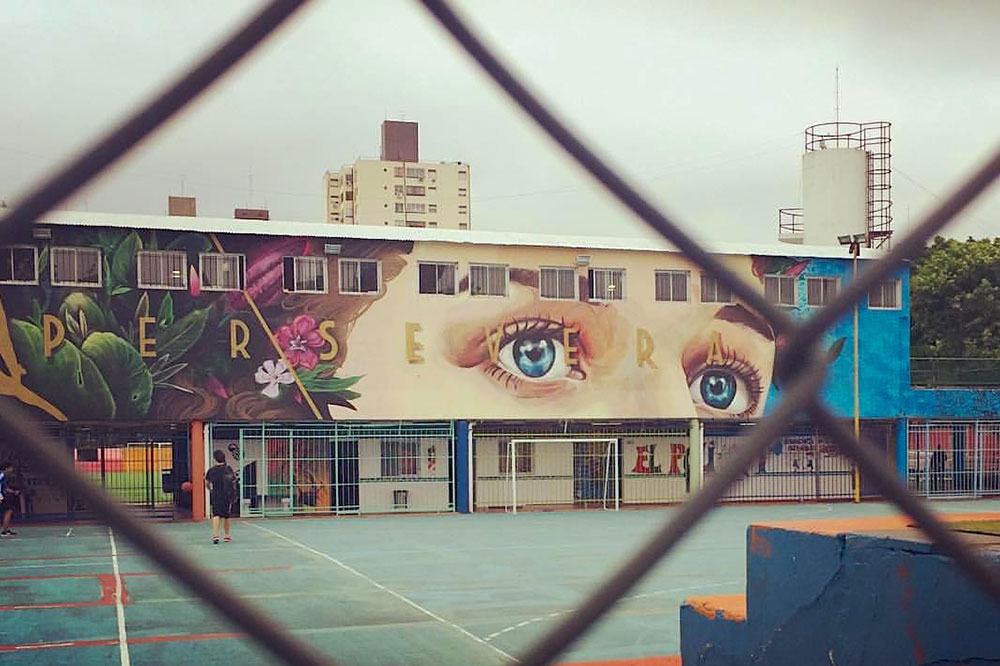 Inside the sports club Polideportivo Colegiales (Image credit: Mathilde Yvert Rankin)

Sports, and I mean football, is a national passion. There are more than 35 football teams and more than 400 fields throughout Buenos Aires, not to mention the millions of fans who might not play but who become the teams' self-appointed coaches when a match is in progress. One cannot miss it when living in or visiting Buenos Aires; you will find people playing ball in clubs, in the street, in the parks. During important games, typically El Clásico that sees River against Boca – the two most famous rival football clubs in town and nationally – or a game from La Selección, the national team, against another country's team, the whole town resonates in a choir of the shouts of people reacting passionately to the game from their homes, bars or other social places in the city. During this time, the teams and their players inspire passionate conversations and debates between friends and strangers, and one had better know their game to take part in these.
PASSION 2: FOOD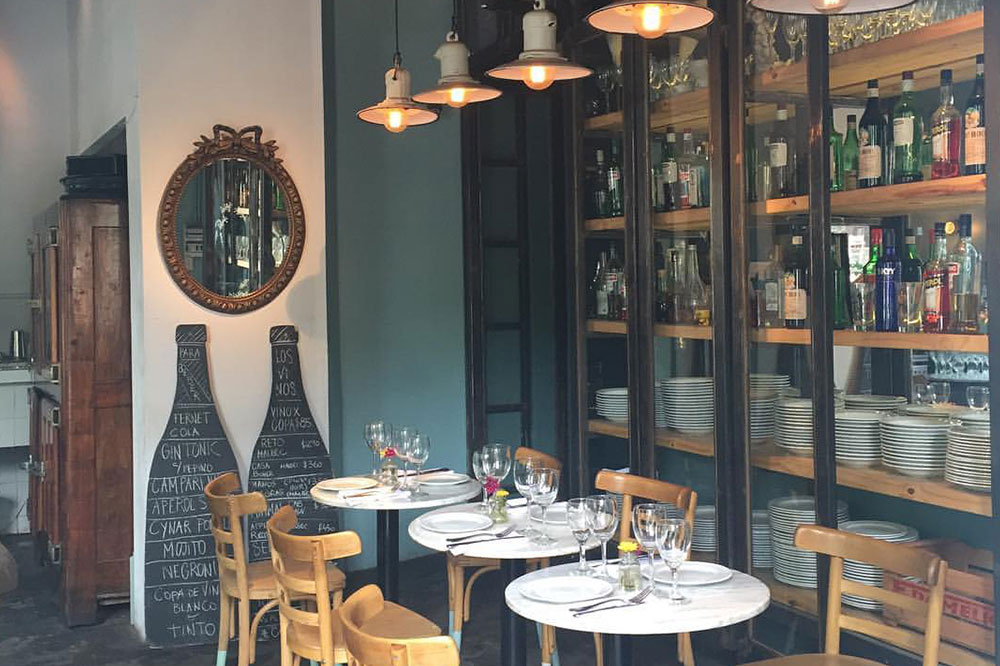 Restaurant La Bohème in Palermo Hollywood (Image credit: Mathilde Yvert Rankin)
Food is another city sport in Buenos Aires. It comes as no surprise, knowing where the first waves of immigrants arrived from: Italy, Spain, France. All cultures that enjoy cooking, eating, talking about food and eating again. Some culinary fare is typical of the city, like the morning snack that includes the medialuna, a kind of croissant to accompany a coffee. The merienda, a formal late afternoon snack, can be composed of mini sandwiches or grilled cheesed sandwiches, or if on the sweet side, of facturas (pastries) or large chunks of cake. It is impressive to see how much there is to eat but how lean people remain – I personally believe the secret lies in their drink called the mate but we'll come back to it later.
However, the culinary highlight here is, but obviously, the asado – a meat barbecue that the Argentines claim is the best in the world and which is exceedingly popular. There isn't a single weekend that goes by without the smell or sight of beef, sausages and other meat being cooked on a parrilla or grill, as you wander around town.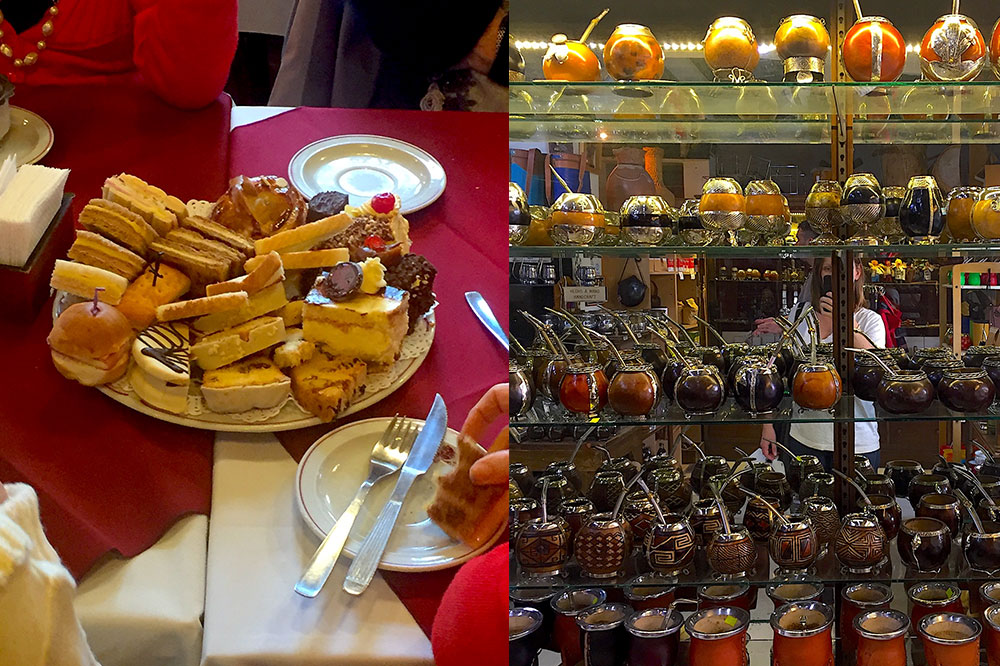 Left: Merienda or tea time at Las Violetas Right: A display of mates (Image credit: Mathilde Yvert Rankin)
While Argentinian wine is obviously very good and of international repute, mate is the beverage that I would consider integral to the Argentine culinary culture. A hot beverage made of dried herbs (la hierba) and hot water, and sipped through a metal straw from a gourd called mate, it is also had in Uruguay and parts of Chile, Brazil and some other South American countries. In Buenos Aires, people sip on it and share it all day long; drinking mate is a communal activity that people engage in anytime, anywhere – at work, on the street, at home, in the park, in the car. People carry a thermos full of hot water to be able to refill their mate endlessly.
And in the same way that people gather and share their mate in an almost ritualistic way, food too is eaten at leisure; it is an activity used as an excuse to relax, bond and share a moment with others. People carve time for it from work and take a real lunch break. Another sign of 'savoir-vivre'.
PASSION 3: DESIGN AND ARCHITECTURE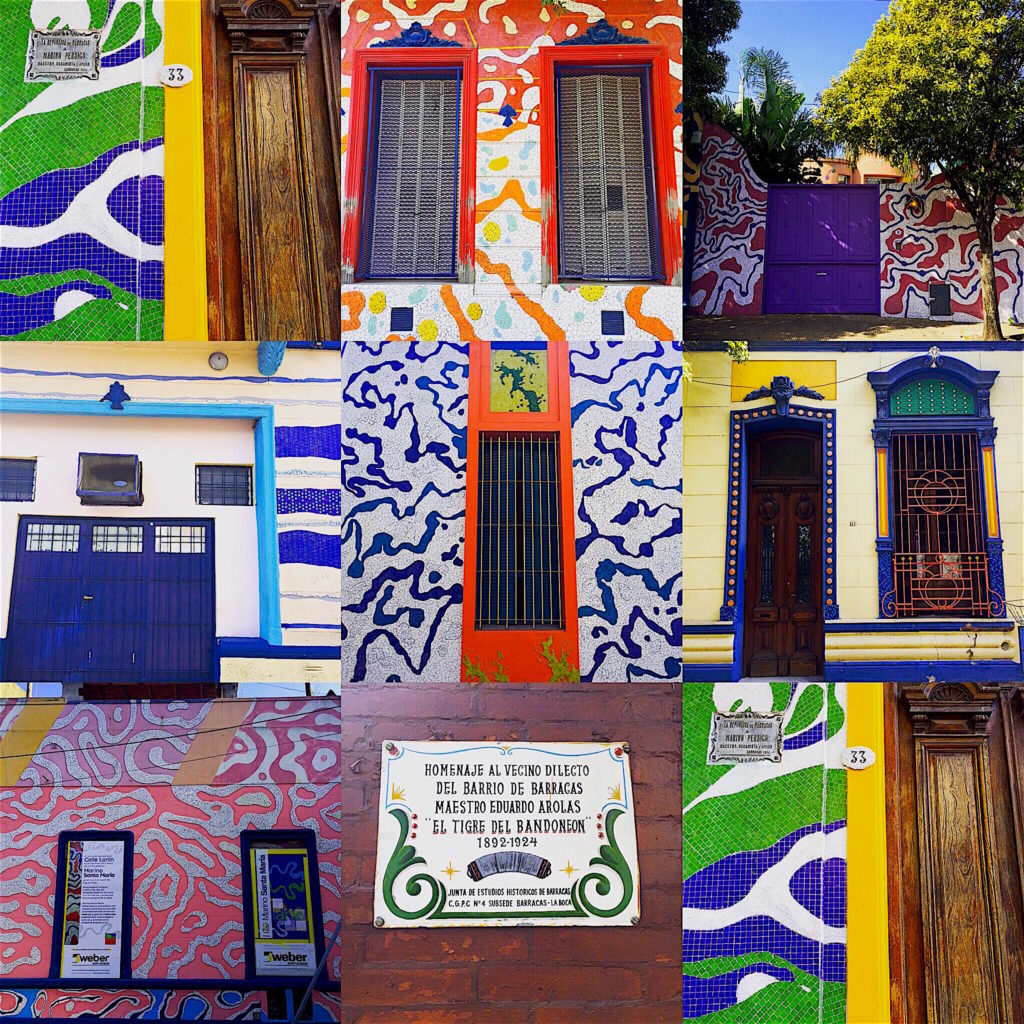 Colourful facades in street Lanín, in the Barracas area (Image credit: Mathilde Yvert Rankin)

There is a sense of design that pervades Buenos Aires (perhaps the taste for it comes from Italy). It is everywhere, from interior design stores with their seventies' style furniture, to the street art and murals painted by artists all over the city, and of course, the art-nouveau architecture. Buenos Aires is not a beautiful city in the traditional sense – not, for example, the way people refer to Paris as walking through a museum – but it is enchanting and charming in a quirky way. Some parts, with more traditional architecture like the Recoleta – a neighbourhood with a distinctive European influence – are more obviously impressive in terms of coherence of style. But the rest of the city is more charming and quaint. Rarely a day goes by without discovering something unusual that I had not noticed before, even in my own neighbourhood.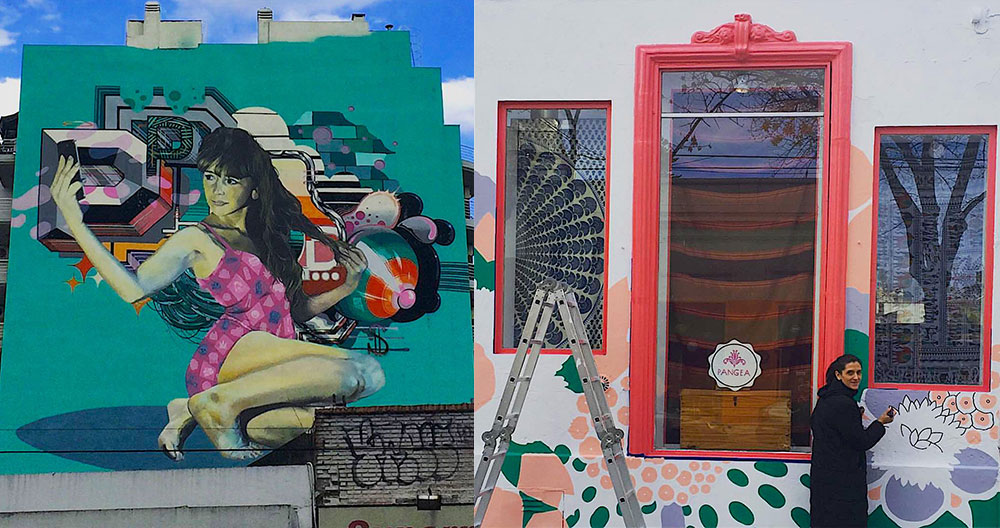 Left: Street art in Palermo Hollywood Right: Artist Laura Riolfi painting the facade of a store (Image credit: Mathilde Yvert Rankin)
Walking around the city is a real treat. The streets are green with trees or exotic plants (depending on the neighbourhood, of course) while apartments and houses are architecturally diverse, their facades often painted by artists. When doors open, they reveal charming or unexpected interiors and gardens. Among my favourite features in the architecture of Buenos Aires are the cúpulas – cupolas – in the Montserrat area, particularly the ones of the Edificio Bencich and the Palacio Barolo. They render the view of the skyline of the city centre unique.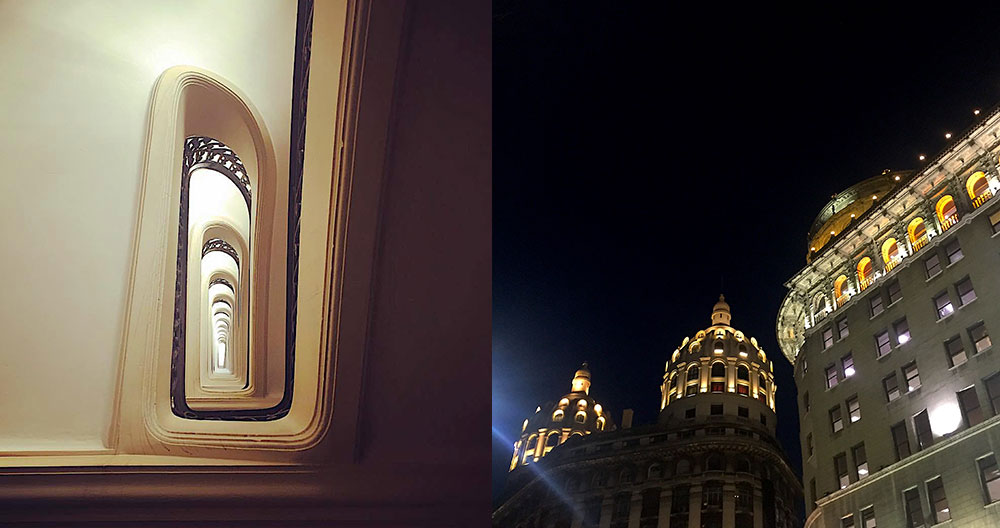 Left: Its architecture inspired by Dante's Divine Comedy, the Palacio Barolo's staircase leads from Paradise to Purgatory, 22 floors below. Right: Cupolas of the Edificio Bencich (Image credit: Mathilde Yvert Rankin)
PASSION 4: ARTS AND CULTURE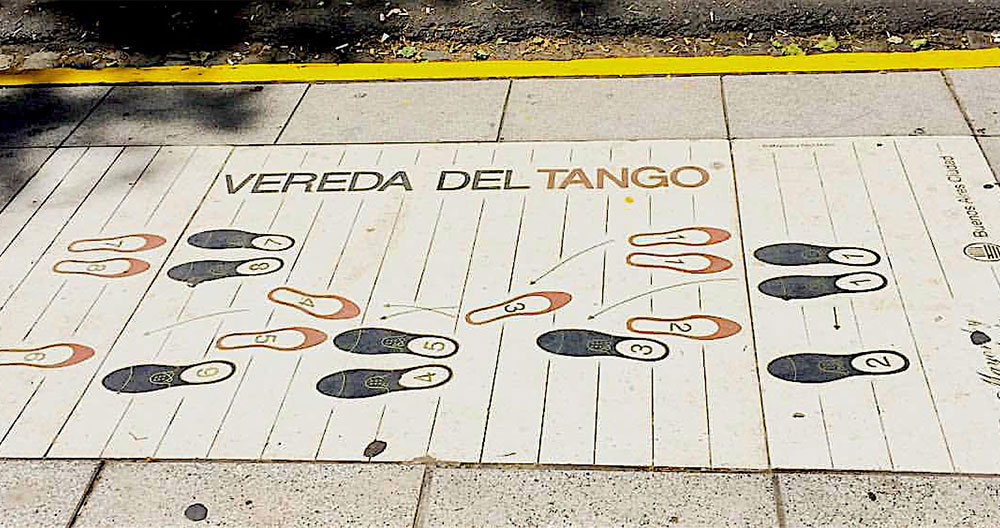 Vereda del tango, the eight basic steps of tango drawn on a pavement in Palermo Soho (Image credit: Mathilde Yvert Rankin)

The last big passion that I see all around and enjoy in Buenos Aires is culture. Art, both classical and modern is omnipresent thanks to free (and superlative) museums and concerts! But beyond art (that is easily at par with every big metropolis of the world), it is the general level of culture which flows through the city that impresses me. Theatres, cinema clubs, dance studios (those specializing in tango being the foremost, of course), music bands and bookstores abound. In this digital era, the Porteños are reading physical books, all the time, everywhere. The city is known for its silent reading parties and it is not unusual to have a taxi driver engage you in a conversation of a deeply cultural or philosophical nature.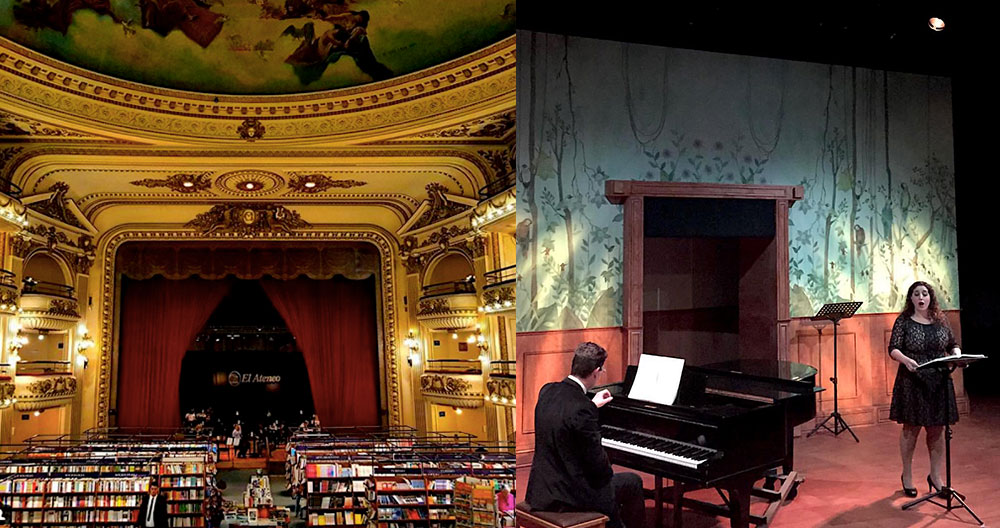 Left: Librería El Ateneo (Image credit: Rebequitan) Right: Classical singer Laura Delogu in Teatro Cervantes (Image credit: Mathilde Yvert Rankin)
All these passions are lived by Porteños in a frenetic way – we're in a big city after all – but also with a sort of laidback pace and attitude that prevents the city from becoming overwhelming.
---
Mathilde's Picks
Play:
Boca Junior Team – Stadium La Bombonera (La Boca district)
Club Atlético River Plate – Estadio Monumental (Núñez district)
Horse race – Hipódromo Argentino de Palermo (Av. del Libertador, Capital Federal)
Polo game – La Cathedral de Polo en Palermo (Arévalo 3065)

Eat & Drink:

Cafes
Las Violetas
Los Angelitos
La Panera Rosa
Pani

Restaurants – Parillas
Don Julio
La Escondida
Happening
El Pobre Luis

Bars
Rey de Copas
Soria
The Temple Bar

See/ Experience:
Neighbourhoods/ Architecture & Design
The district of Montserrat, Congreso, Plaza de Mayo for monuments, cupolas, the Palacio Barolo, Edificio Bencich, Casa Rosada.
Palermo Soho, Palermo Hollywood, Villa Crespo and La Boca to enjoy street art.
Los Bosques de Palermo for its parks.
The cemeteries Cemeterio de Recoleta and Cemeterio de Chacarita, for their architecture.

Bookstores
Librería El Ateneo
Libros del Pasaje
Borges 1975

Music
Centro Cultural Kirchner (CCK) – Sala Ballena Azul
El Teatro Colón
Usina del Arte
Niceto Club
Ciudad Cultural Konex
La Catedral Club – Tango

Museums
MALBA – Museo de Arte Latinoamericano de Buenos Aires
Museo Nacional de Bellas Artes
Centro Cultural Recoleta
MACBA – Museo de Arte Contemporaneo de Buenos Aires
MAMBA – Museo de Arte Moderno
Fundación PROA

Useful Links
https://disfrutemosba.buenosaires.gob.ar/
http://www.thebubble.com/
http://www.timeout.com/buenos-aires/
Mathilde loves to travel for leisure but what makes her an insider and local purist is that she has also settled in various countries over her life. French-born and from Lyon, where she lived until 2001, she has also lived in Paris where she got her Masters degree in marketing, communication and social sciences from the Sorbonne, and then worked as a brand strategist. She has lived and worked in London, and in Mumbai, India; in the latter, she forged strong connections with the people, the city and the country that she loves and often misses. She later settled in New York City with her husband, who is American, until they moved together to Buenos Aires.

Mathilde is a trained classical singer who has been travelling since childhood, living with local families, to perform at concerts around the world. Even today, wherever she lives, she makes it a point to pursue her own passions – classical singing, running and yoga. She will soon relocate with her husband to California, USA. Her new beginnings never end.