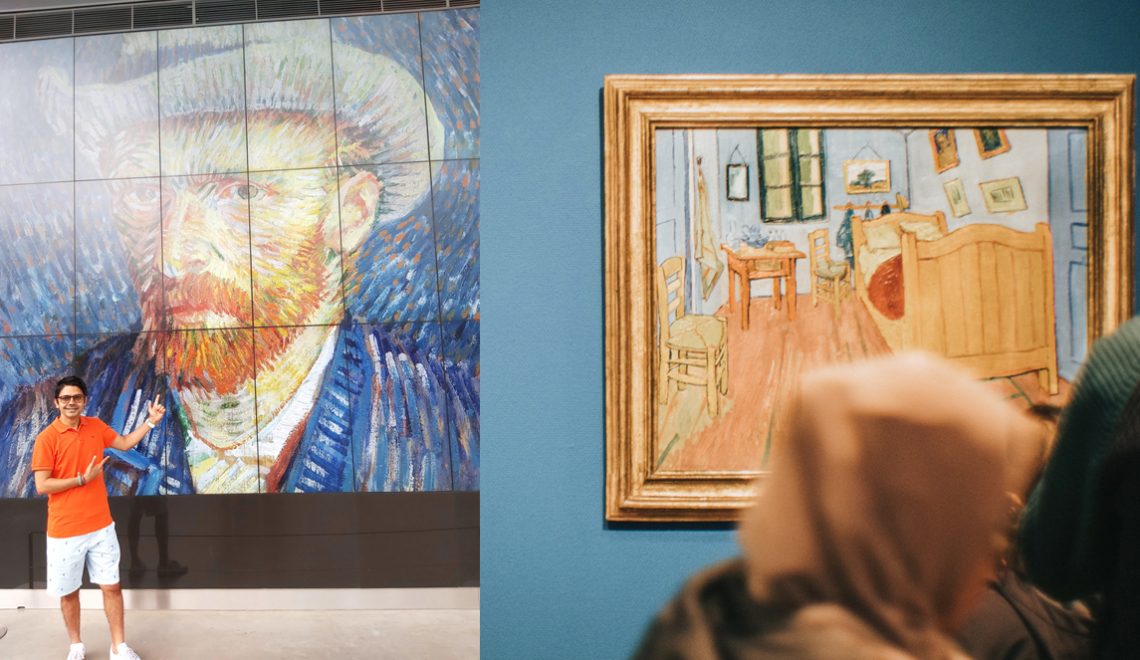 Chandan Mahimkar recalls his travels through Arles, Paris, and Amsterdam in Van Gogh's footsteps.
Text by Chandan Mahimkar
Images courtesy Atelier des Lumieres, Unsplash Images and Chandan Mahimkar
The legendary Vincent Van Gogh moved all his life. Be it a new town, a new village or a new country, the Dutch-born artist was always changing places, gathering new subjects and venturing into the countryside. On my recent trip to France and Amsterdam, I decided to wander in Van Gogh's footsteps.
In France, the cities of Arles and Paris enjoy much Van Goghian presence and artistic heritage. In Arles, open to visitors are all the sites where he painted, while in Paris, one can experience a walk in an immersive show of his famous paintings. When it comes to the Netherlands, a major attraction is a large collection of his masterpieces in a museum solely dedicated to him; the famous Van Gogh museum in Amsterdam.

I started my journey from the South of France in Arles, moving north to Paris, before making a final stop in Amsterdam.
Arles
During his stay in Arles, Van Gogh hit a purple patch—between February 1888 and May 1889, he produced some of the most celebrated works of his artistic career. Abundant with natural light, Arles was where Van Gogh went on to paint a lot of his subjects. His diverse artworks included subjects that ranged from locals, their houses and areas of public leisure to natural interests such as gardens, landscapes and nights. One of my favourite paintings of his from Arles was The Harvest. In Van Gogh's own words – "During the harvest my work has been no easier than that of the farmers themselves who do this harvesting. Far from complaining about it, it's precisely at these moments in artistic life that I feel almost as happy as I could be in the ideal – the real life."
I participated in a treasure hunt that took me to all the landmarks where he had been known to paint in Arles. It was difficult to imagine how he transformed these sights into iconic paintings—his bold style, vibrant colours, strokes and creativity can all be seen reflected in his paintings.


While staying at The Yellow House, Van Gogh painted The Bedroom. In a note to his brother Theo, he writes"This painting should make people think of rest and sleep and colour would make that happen."
With a close view of his bedroom, the painting depicts a sunny, domestic scene, reflecting his comfort at being in Arles and conveying a sense of peace after the chaotic din of Paris. Later, while at the iconic 'The Van Gogh Café', I ended up serving my wife Ketaki and friends Manoj and Vaishali, since the café owner sportingly allowed me to play waiter! This cafe finds its fame from being immortalised in Van Gogh's Café Terrace at Night.
In the end of December 1888, Van Gogh had a major episode of mental distress and self-harm. After a heated argument with his friend and artist Paul Gauguin, the troubled artist is said to have cut off a part of his ear. Later, in the beginning of 1889, his mental issues resurfaced and deteriorated, leaving him hospitalised. It is while recovering from this episode in Arles that he painted a self-portrait in the January of 1889, depicting a bandage to his ear.
In May 1889, Van Gogh moved out of Arles and voluntarily admitted himself in an asylum at Saint-Remy de Provence. Here, he suffered from more such mental breakdowns. Unable to draw and paint for lengthy stretches of time, he still managed to create The Starry Night, which can be understood as an apt representation of his state of mind. His trademark swirl-strokes and brush technique constituted his preferred style from among all the works he created during his time in the asylum.


While at Arles, another attraction is the Fondation Vincent van Gogh Arles. Displaying art by various contemporary artists who have been inspired by the legendary painter, the foundation is aimed at paying tribute to his body of work. These creations rich in imagination would likely do even Van Gogh proud, and the pieces highlight his massive impact and reach as an artist in the 20th and 21st centuries.
Paris
It is here that Van Gogh stayed with his brother Theo between 1886 and 1888. In Paris, the brothers spent time with artists such as Paul Gauguin, Pissarro, Monet and Emile Bernard. Van Gogh immersed himself in modern art from the impressionist and post-impressionist movements. Developing a new style influenced by impressionism, Van Gogh's time in Paris was crucial in shaping up his distinctive artistic method–he began adopting brighter and more vibrant colours in his works. Noteworthy in this regard are Boulevard de Clichy, 1887 which depicts a scene near the brothers' home and View from Theo's apartment, 1887. A few blocks away from their apartment was Le Moulin de la Galette, the site of an old windmill which Van Gogh painted several times. Today, a chic brasserie by the same name lies in the site, with the windmill inside its premises.

The well-known Musée d'Orsay in Paris also has a sizeable number of his works, such as Starry Night Over the Rhone (1888), Self Portrait (1889), Vincent's Bedroom in Arles (1889) and Terrace of a Cafe on Montmartre (La Guinguette, 1886).
Can one imagine the Starry Night becoming a dream to see with open eyes? Paris offers a modern take on the artist through an immersive show on Van Gogh, made possible with gigantic screens and projections. A visually rich experience, one is surrounded by the bright colours and strokes of the artist's iconic works. Atelier des Lumieres (Workshop of Lights) hosted the Expo Van Gogh until December 2019. One can only imagine walking inside a giant Van Gogh painting projected on the walls and even on the floor, giving a surreal experience to the viewer. The strokes come alive through well executed animation and such magical sequences cannot be missed.
Amsterdam
My final stop in this artistic trail was Amsterdam, from where I wrote about this journey. Van Gogh stayed here in three different times of his life, the earliest of which was in 1877, when he spent time studying Theology. His most celebrated works, such as The Harvest, The Almond Tree and The Potato Eaters are on display in the Van Gogh Museum, which boasts of the largest collection of the master's works. Many of his paintings from Arles are also exhibited here.
While at the museum, it was lovely to see Paul Gauguin's The Painter of Sunflowers. Gauguin had made a portrait of Van Gogh when they were working together in Arles from October to December 1888.

A temporary exhibition at the Museum named The Van Gogh Sunflowers was a great way to understand and study why he chose to paint his famous Sunflowers. One of the five versions is exhibited here.
Van Gogh wrote to his brother Theo that he wanted to decorate his studio in Arles with half a dozen paintings of sunflowers. "The collection will be a symphony in blue and yellow," he wrote. He had invited artist Paul Gauguin to come and stay with him there.


In this museum one can also practise perspective inspired by Van Gogh on a touchscreen. This apart, the museum also offered a sensory experience titled Van Gogh Dreams – a narrative installation that allowed one to enter the mind and heart of Van Gogh to experience the artist's emotional journey when he moved from Paris to Arles.
And if you still can't have enough of Van Gogh, I would recommend movies based on the life of the legend: At Eternity's Gate on Netflix and Loving Vincent, the world's first fully oil painted feature film. I would also recommend watching Lust for Life (1956) an adaptation of the novel by the same name, written by Irving Stone.
__________________________________________________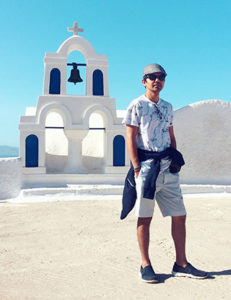 Chandan Mahimkar is a designer, creative director, lettering artist and traveller. He shares his travel photography and his unique hand lettered journal of travel experiences @see_mahimkar on Instagram. His travel photography is shared by some of the top travel accounts on Instagram like @passionpassport, @iamsterdam and @projectvanlife to name a few.