Award-winning photographer Ashima Narain visits the Nagaur Cattle Fair in Rajasthan and brings us a stunning photo feature.


The Nagaur Cattle Fair held in Nagaur, Rajasthan, is the largest cattle fair in India after Pushkar. Thousands of farmers from around North India congregate here during the fair where about 70,000 bullocks, horses and camels are traded every year. The fair is an annual event held in January or February, and is on from the 1st to the 4th of February 2017.
My reason for going to Nagaur was because I love cows and was willing to travel 20 hours in a train to see them, in the bitter cold. I wanted to see what happens at a cattle fair like this one. I just took the train on impulse and landed in Nagaur.
There's a lot that happens at the fair apart from the trading. Some people come just to chill out, some to work, some for the competitions. Because I was a bit of an oddity – a woman alone – a kind man called Mahendra from Haridwar appointed himself as my bodyguard and showed me around the whole fair. He refused to take any payment for it, and would tell people 'yeh Hindustani hai' ('She's Indian!') if anyone started asking me for money!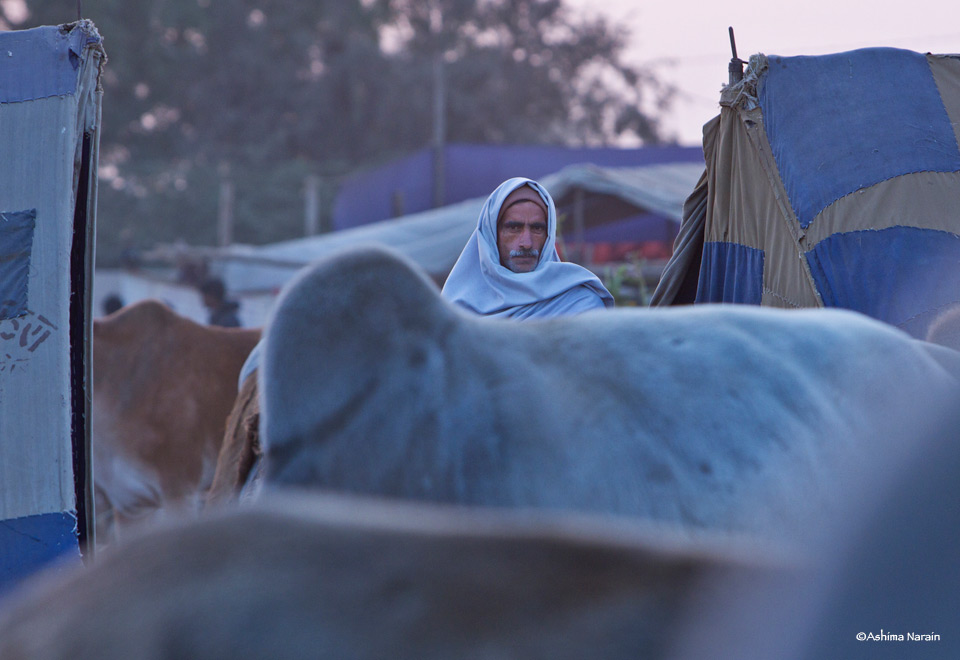 Every year over 50,000 heads of cattle, camel and horses congregate in Nagaur, Rajasthan, to be bought, sold, danced, pranced or sometimes, just for fun. The fair takes place in the months of January or February, forcing the animals and their men to brave the biting cold.
---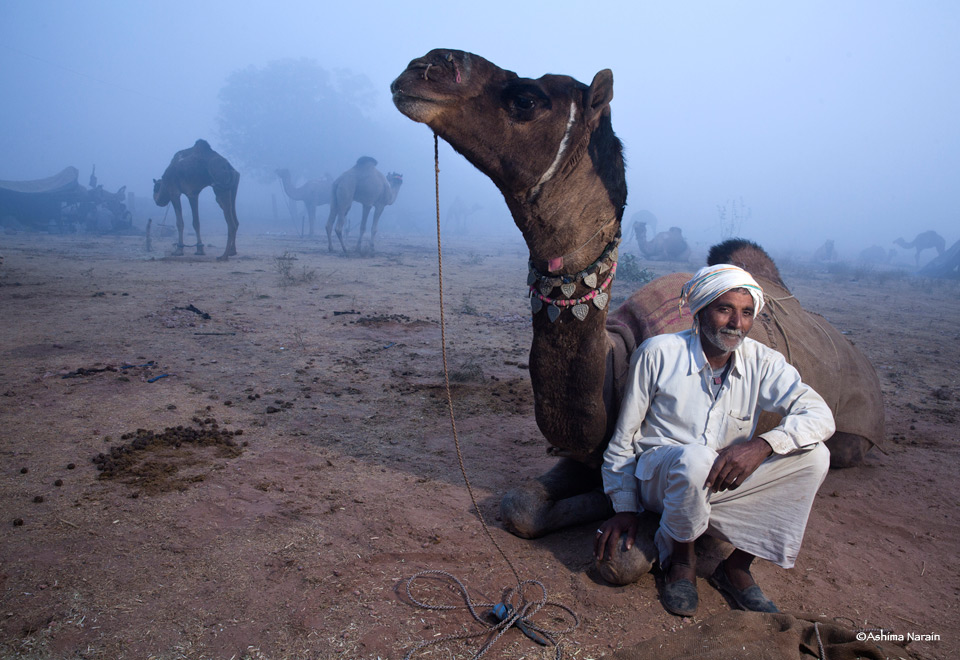 Manzoor Khan has two camels but has only brought Badal – whose name means 'cloud' – to the fair for the camel dance competition. In Rajasthan, it is popular for camels to 'perform' at weddings and other special occasions. In the past, Badal has won Rs 11,000 at a competition in Bikaner, Rajasthan, where they live. Badal has also appeared in a Bollywood film in Mumbai, but Khan cannot remember the name. He says 'uska kaam hai uchchalna aur koodna' ('the camel's work is to jump around').
---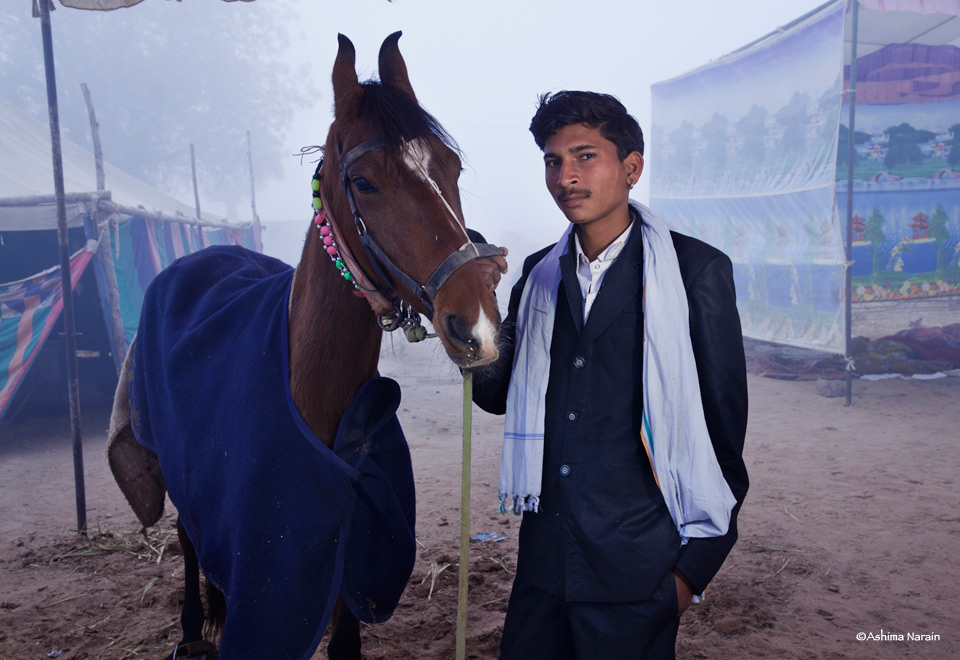 Khoju Ram (19) lives in Nagaur. He is staying at the fair with his family. He is photographed with his mare, Suman (4) from Kathiawad. His is the 4th generation to look after horses.
---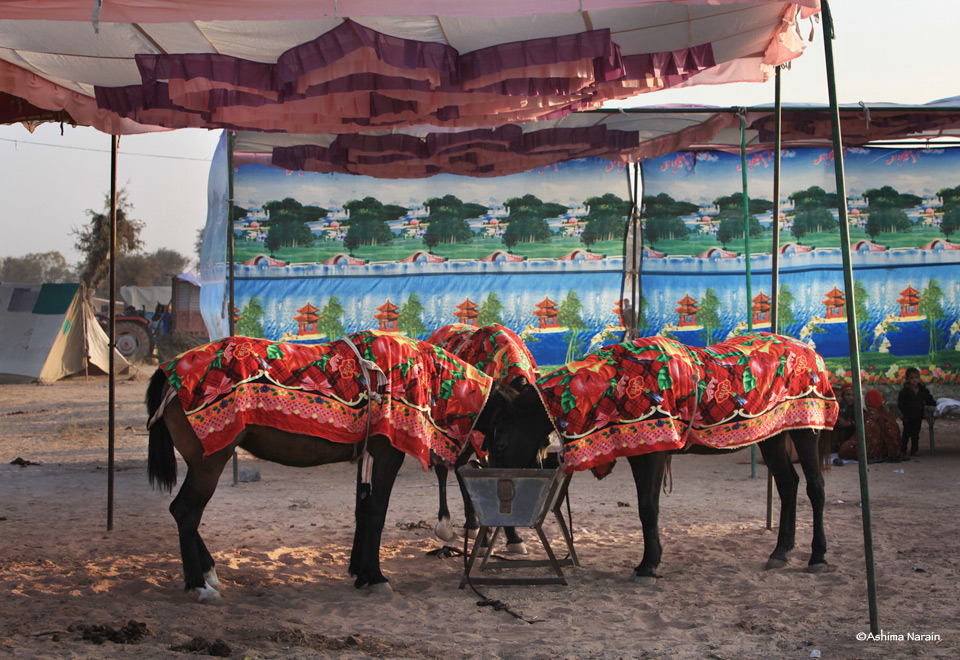 Three Kathiawadi horses, clothed in blankets, huddle together to have breakfast.
---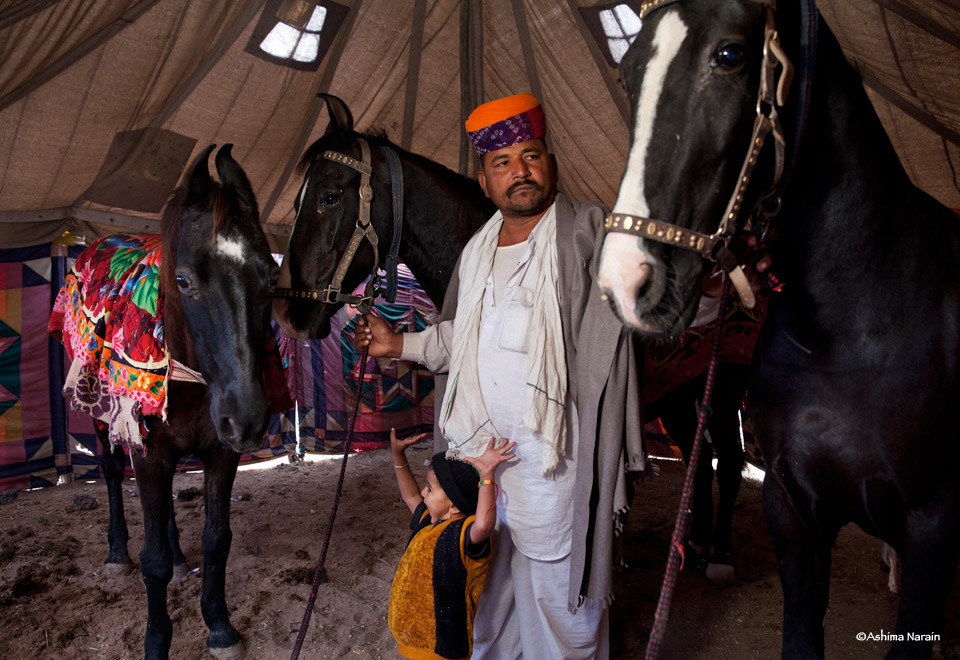 Bhanwar Lal Singh (33) has 4 horses (including one outside the tent) from Kathiawad. Each is worth Rs 350, 000. His is the 3rd generation to look after horses. He has two sons who help him look after them, one of whom is Khoju Ram (featured in the photograph above).
---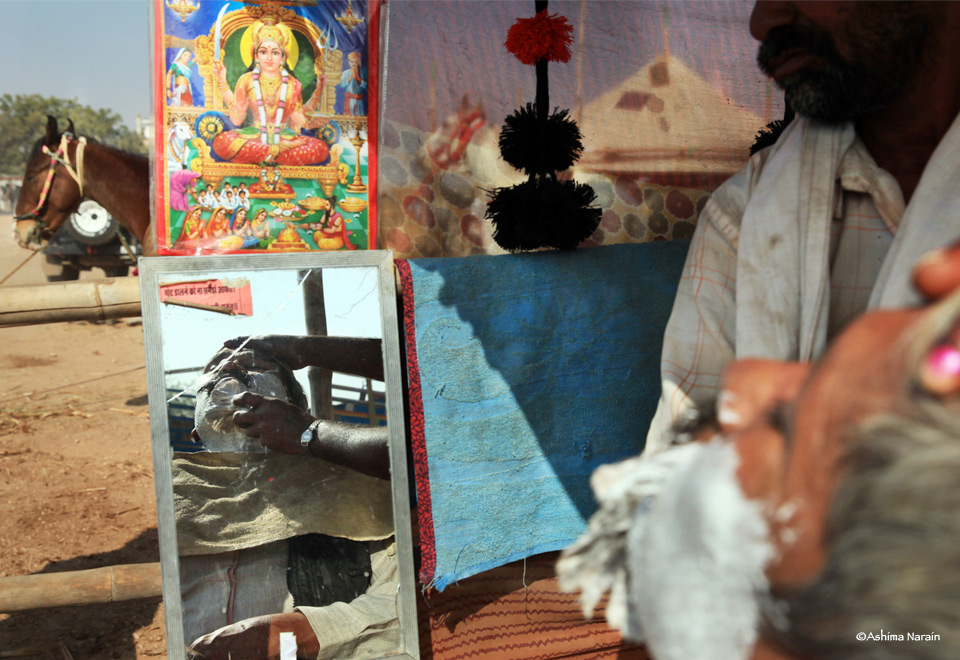 Eateries and small shops like this barber's shop are set up to look after the needs of the thousands of visitors who come from across the country to participate in the fair.
---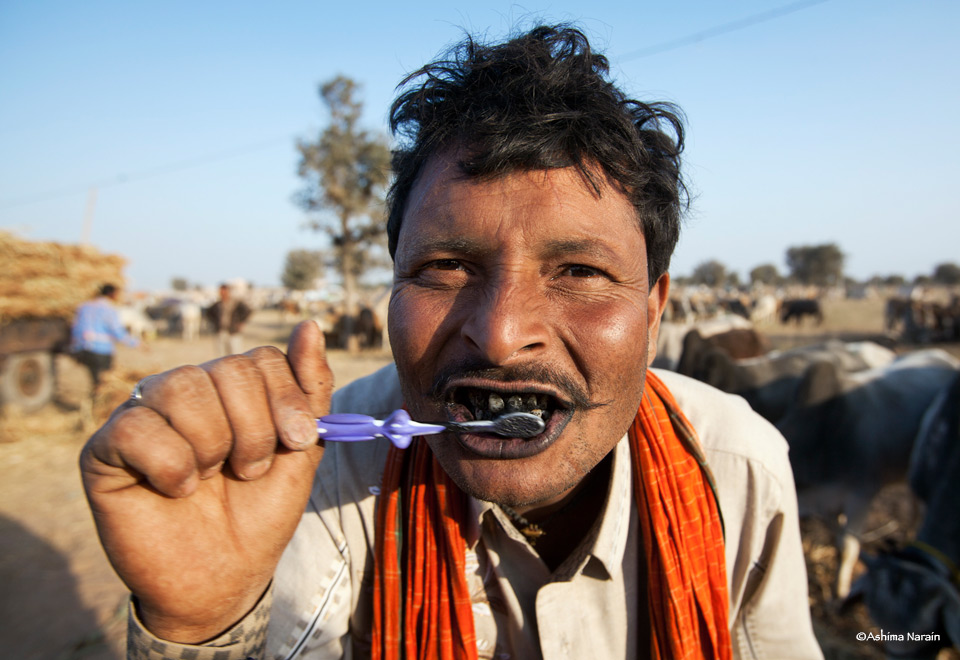 Raju Bagga (30) from Dadrachauri came to Nagaur and bought 30 cows for farming. More interestingly, he had his teeth pierced with gold, green and red dots at the fair. Each dot cost him 30 rupees to do. He was insistent that I too have it done, and was extremely disappointed when I declined.
---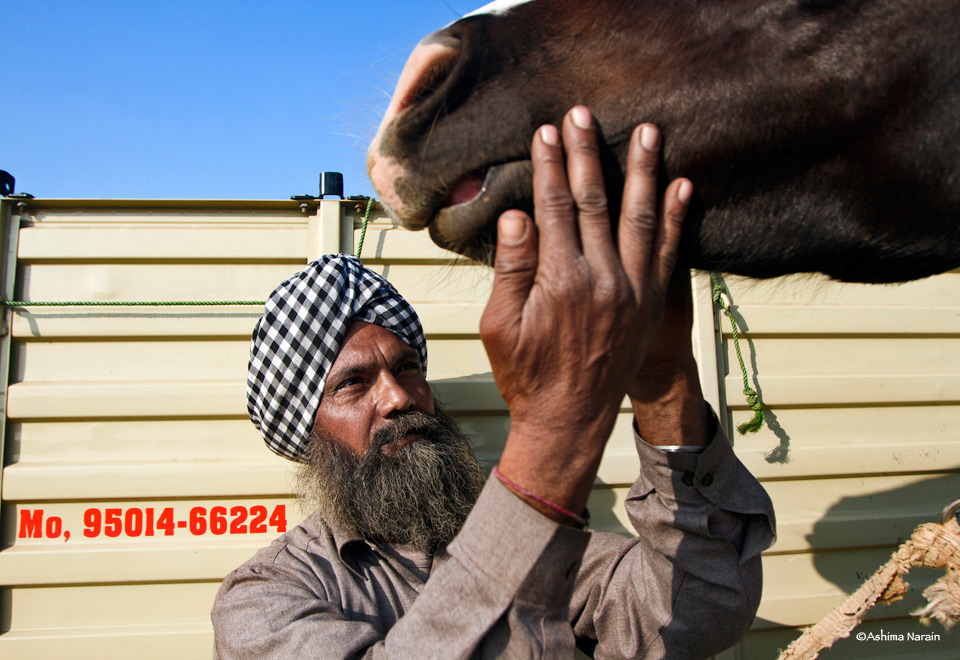 Charanjit Singh drove 18 hours in his van to come to the fair from Ludhiana. He looks at his newly acquired 2 year old horse with pride, although he says he did it just 'shauk ke liye' (on a lark).
---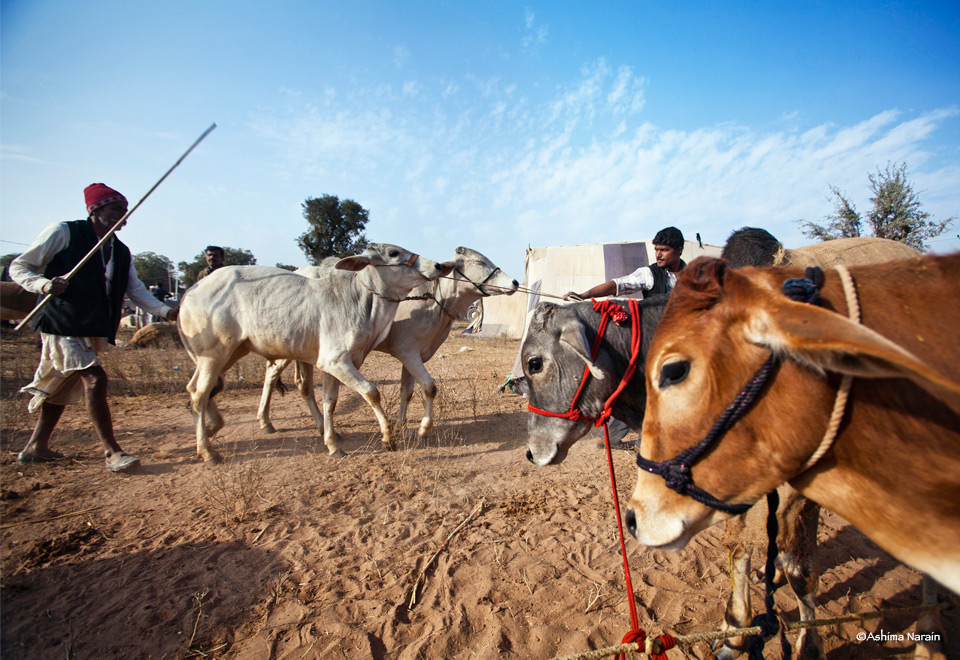 The Nagaur Cattle Fair has only male cattle – calves and bulls. I was told, the females would cause 'too much excitement' if they came. However, female horses and camels are allowed.
---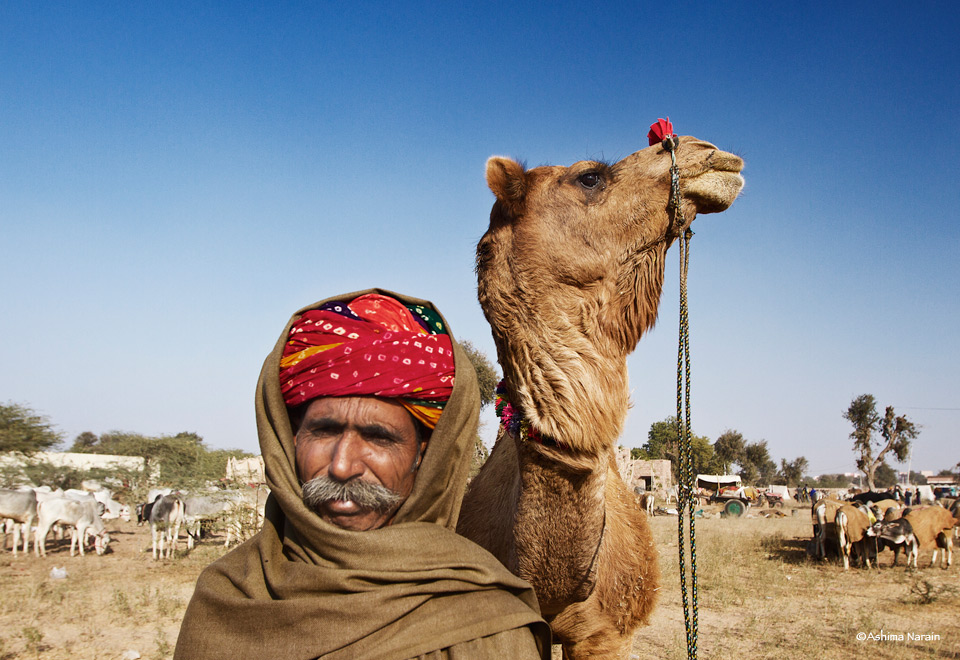 I saw an equal measure of pride in this camel and its owner, so I asked to take a picture. Ashu (60) came from near Pushkar with his camel Raju (30). But he didn't wish to divulge any more information or stick around to chat.
---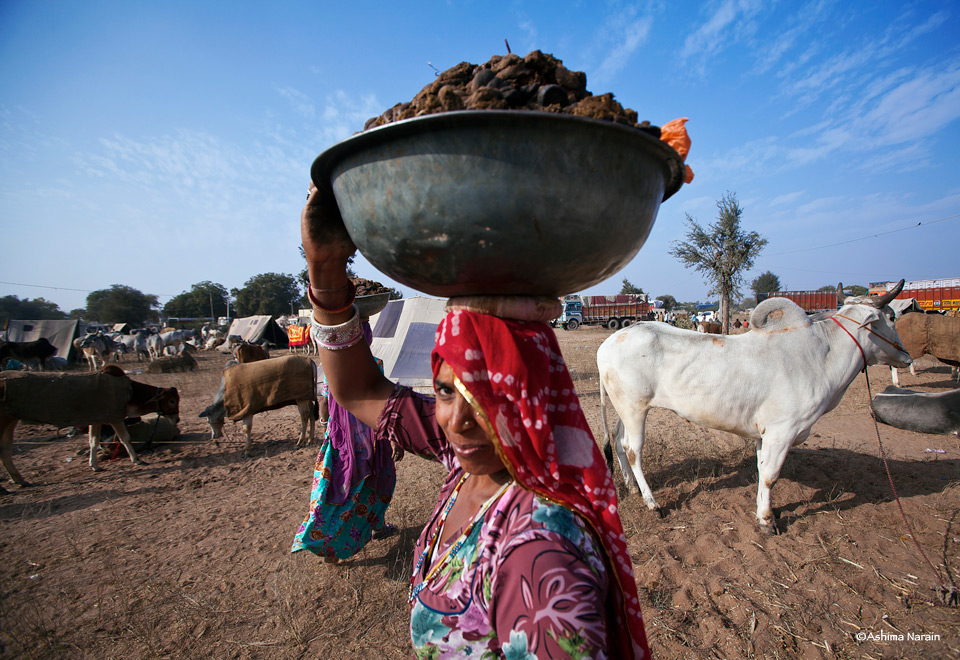 Like the female cattle, women too are conspicuous in their absence. While a few women do accompany their families as visitors, those who work at the fair live nearby and come to collect the cow dung to convert into patties. Ironically, the dung sells as fuel to the very men whose cattle expelled it in the first place. These ladies would not tell me their names, but giggled throughout as I photographed them. They kept asking why I wanted to take their pictures and I replied, 'Itne sundar lag rahein ho' ('you look so beautiful in this setting') to which they giggled some more.
---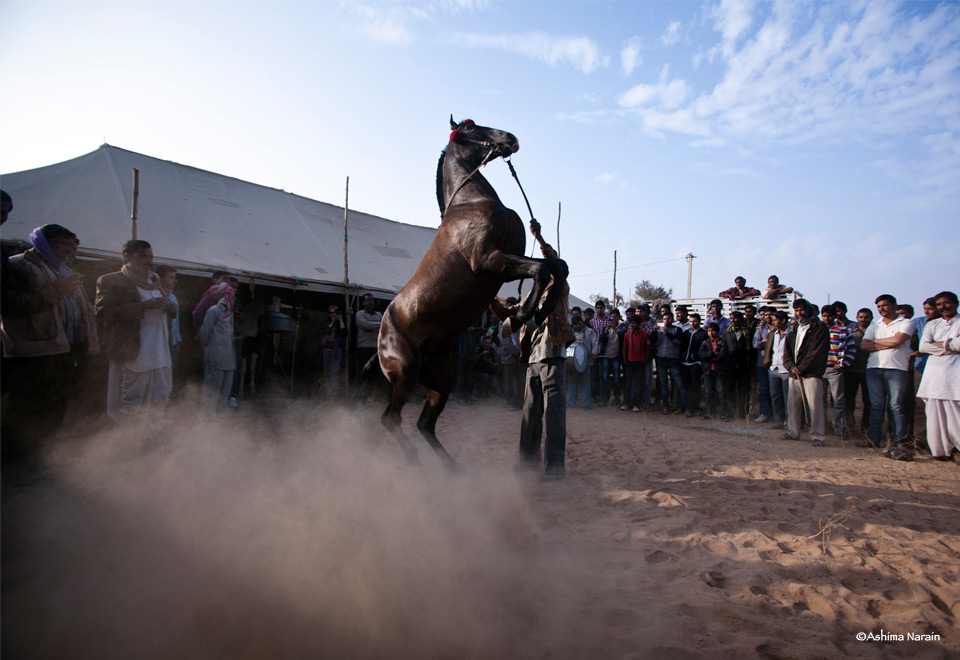 People come from all over North India to buy and sell cattle at the Nagaur Cattle Fair. Some people come to 'dance' their horses and camels in official competitions. In Rajasthan, at special events like weddings, horses or camels are called to perform.
---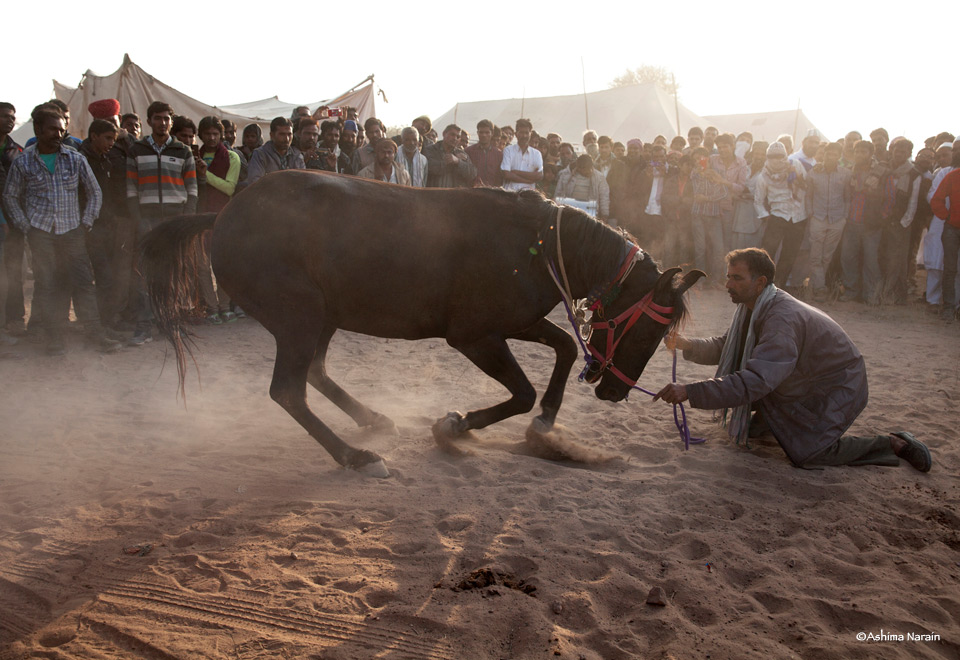 This impromptu dance also has prize money; good dancing and winning any competition helps drive up the price of the animal.
---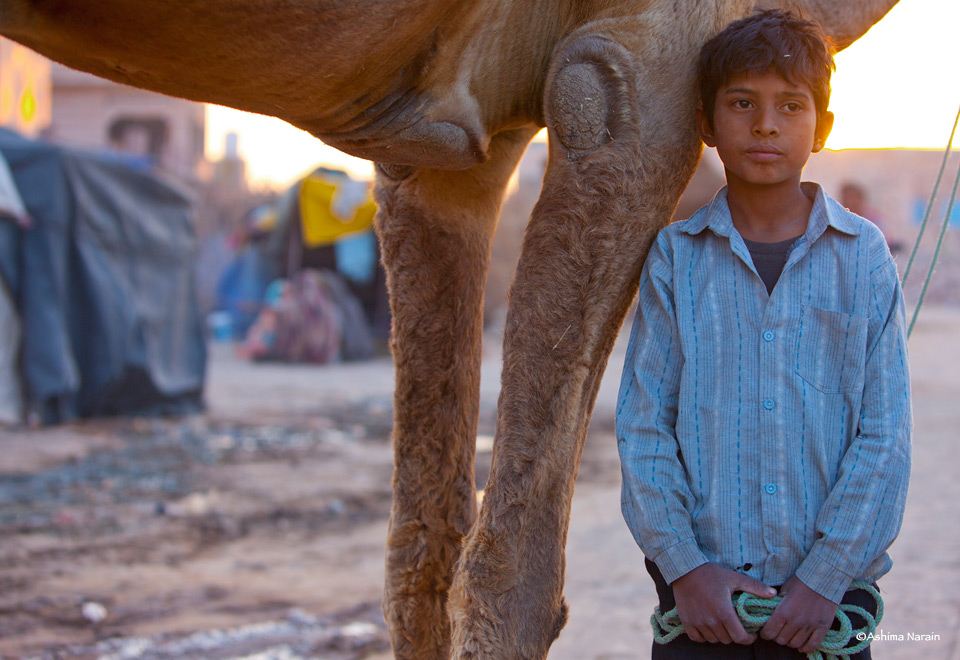 I saw this young boy looking after his camel, although he was only as tall as the camel's leg!
---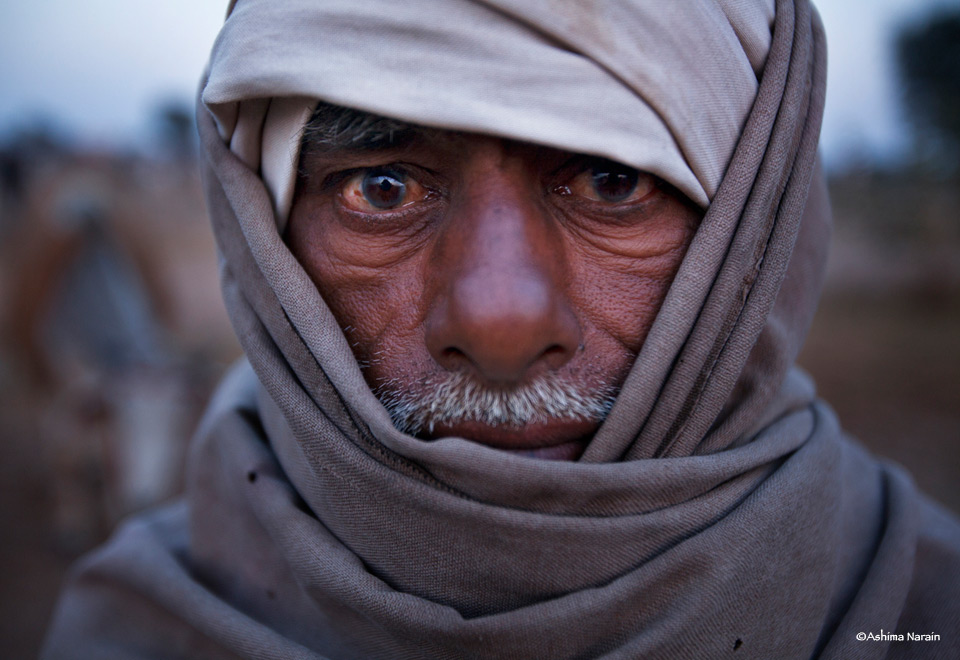 Kallu is 57 years old and comes from Karoli in Rajasthan. He came to buy 32 heads of cattle – some to rear and sell, others to use for farming. He farms chillies, mustard, peanuts and wheat.
---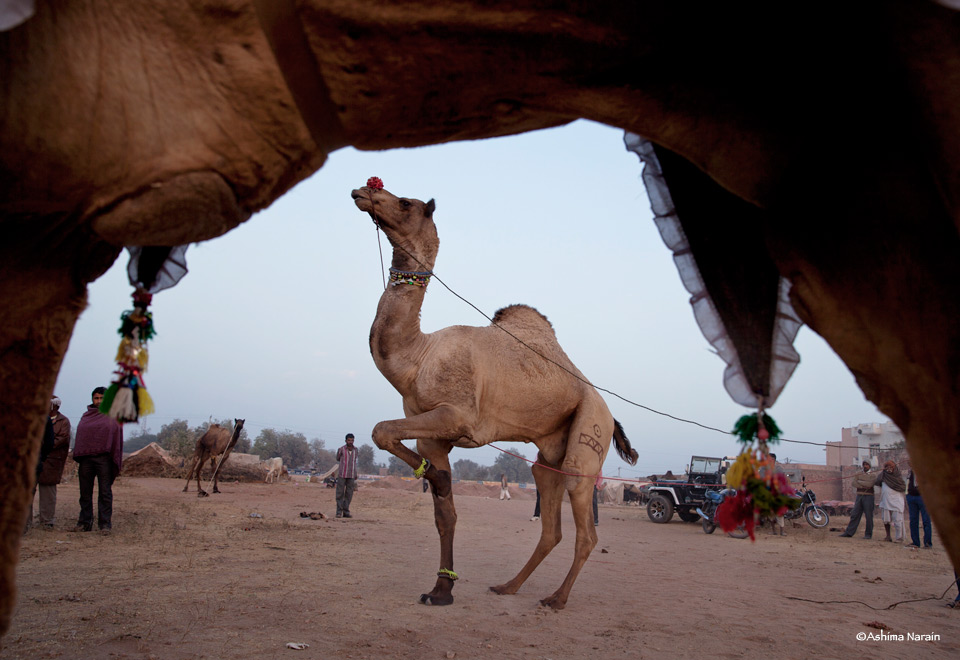 Camels practise their dance moves before participating in the official competition.
---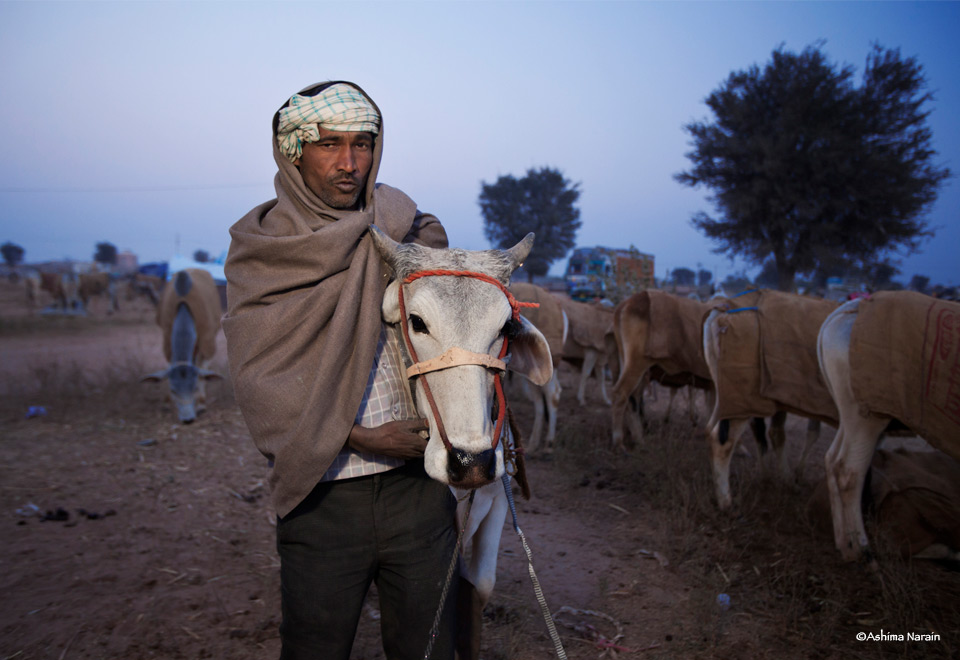 Namoo (35) travelled from Saimarda in Rajasthan with six others from his village. It is his first time to the Nagaur Cattle Fair, and he bought four calves. The one in the image is 2.5 years old. He says that he has two more at home.
---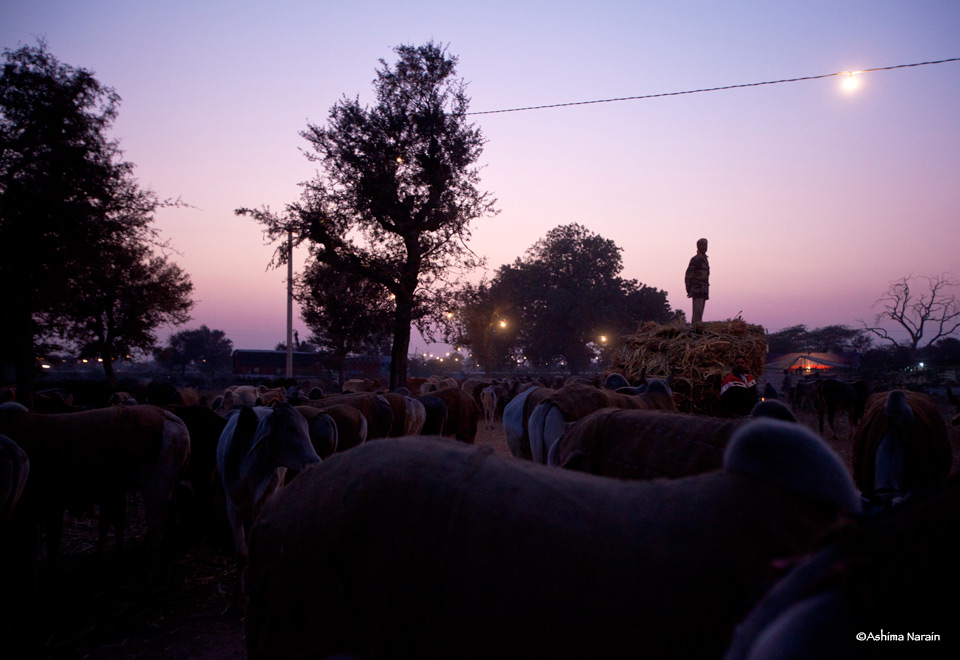 The sun sets over the Nagaur Cattle Fair.
---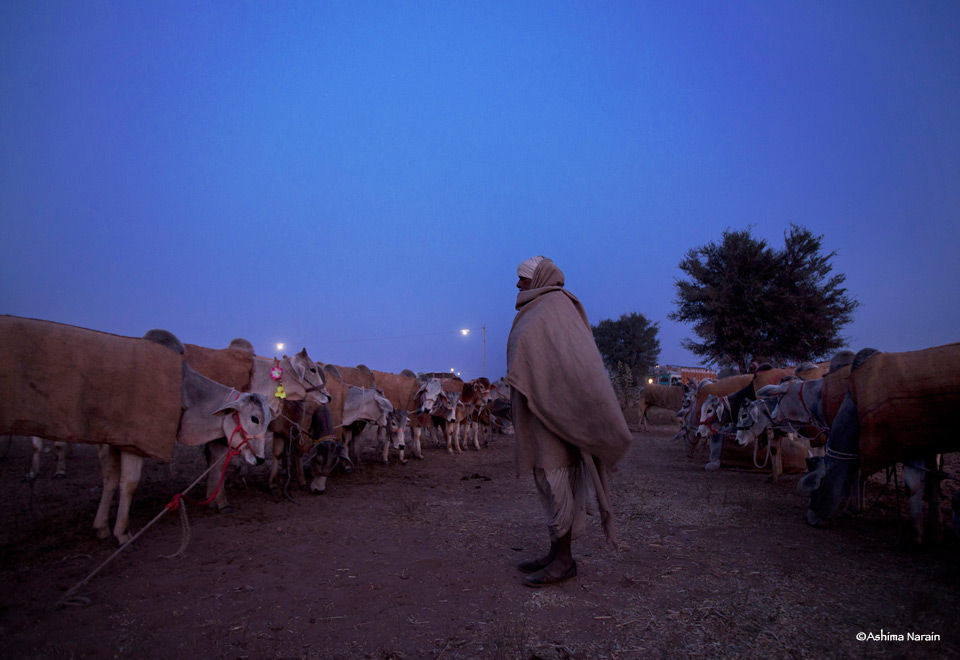 All the cattle are lined up and covered for protection from the chill of the evening.
---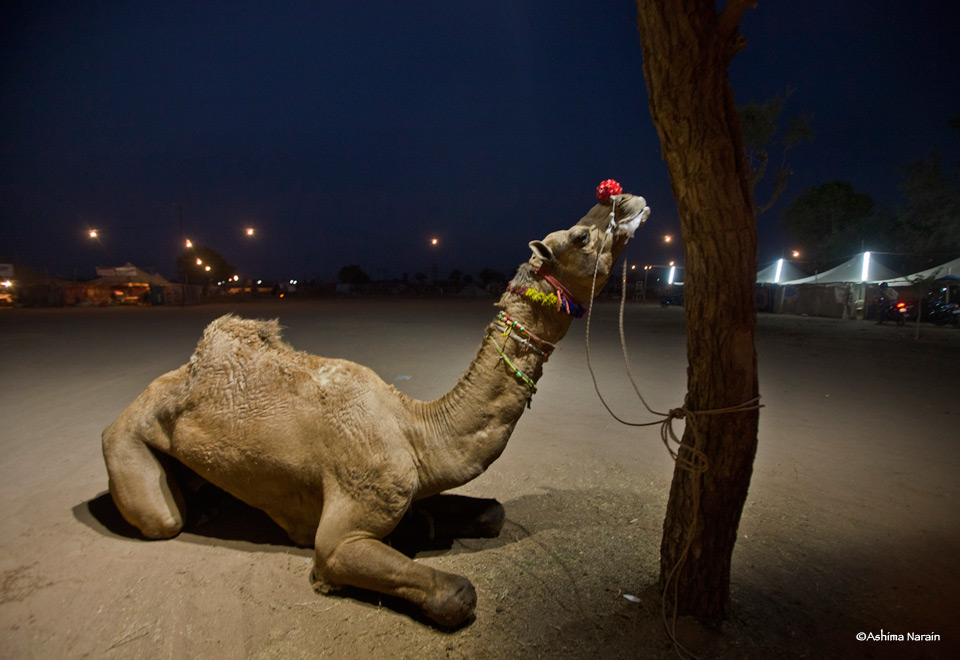 A camel calls it a day at the Nagaur Cattle Fair.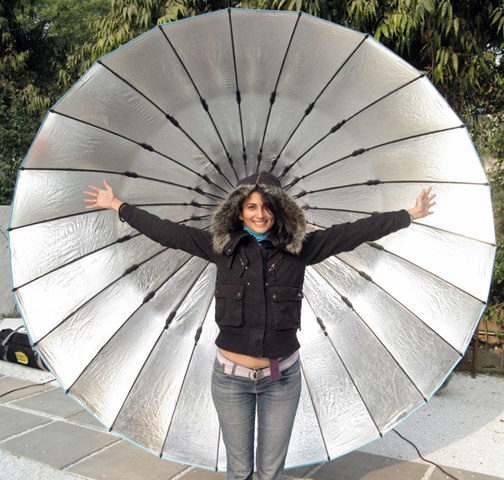 Photographer, film-maker and former photo editor for National Geographic Traveller India, Ashima Narain has worked on a diverse range of subjects that have sent her wading through mudflats in search of flamingos, climbing sail masts mid-sea and driving vintage cars across India. She has twice been nominated for a Green Oscar and been the recipient of the Ramnath Goenka Nature & Environment Photographer in 2006 and the Commonwealth Photographer for South Asia in 2004. She is represented by National Geographic Creative.