A book town in Fjærland, along Norway's longest fjord, has 3 miles of open bookshelves manned mostly by honesty boxes.
A cruise down Norway's longest fjord, past misty mountain peaks and icy glaciers, along pine forests and fairytale cottages, ends with a book lover's wildest fantasy. Rows and rows of open bookshelves and charming bookshops line the waterside, suspended in the vast stillness of the spectacular Norwegian countryside.
Mundal in Fjærland is a quaint little village along Sognefjord – Norway's longest and most breathtaking fjord. Located in western Norway, Fjærland is where this fjord meets mainland Europe's largest glacier – the Jostadalsbreen. It is also where a bookworm's dream meets reality. Here, 3 miles of bookshops and book stops sell secondhand books in various languages, during the summer months from May to September. Known as the Norwegian Book Town, its old buildings and spaces – even bus stops, pigpens, stables and farm sheds – double up as delightful bookstores for visitors to browse through. The town is well stocked with a variety of books ranging from classics and popular titles to Roald Dahl and Pippi Longstocking (Swedish author Astrid Lindgren's 'strong, independent little girl' protagonist). Except for the odd bookshop, you're unlikely to find a cashier here; the books are unattended and buyers are expected to drop their payment into honesty boxes.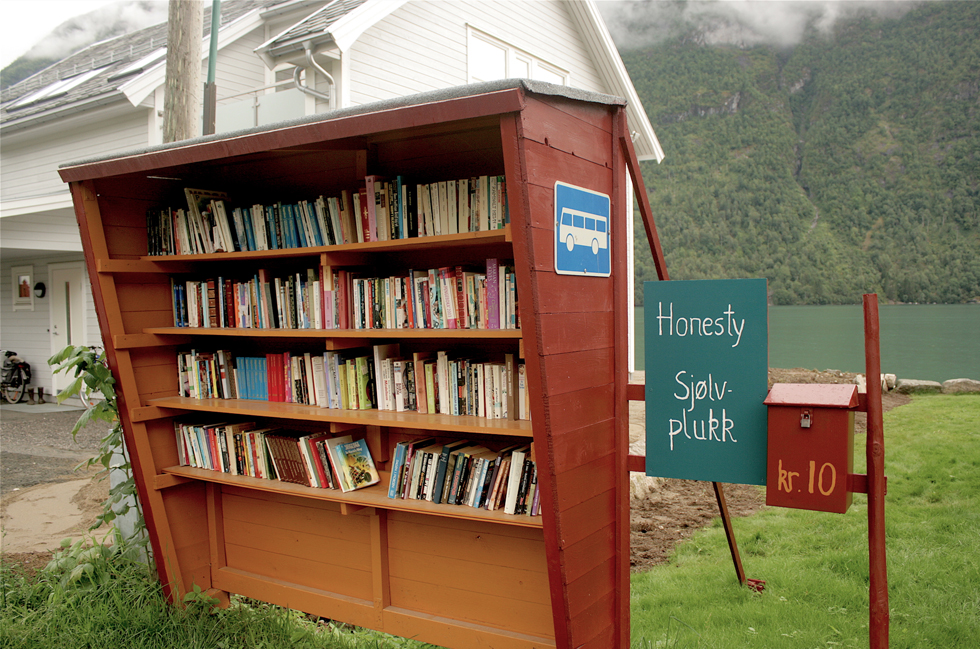 Fjærland has a population of 300 people, most of whom are engaged in farming and tourism. If you can tear yourself away from the books, there's also a coffeeshop and an old church near the booktown. And when you've finally had your fill of sweet-smelling paper speckled with age, you could make your way, bagful of books and all, to the Jostedalsbreen National Park for a view of the Bøyabreen, one of 25 'glacier tongues' of the Jostadalsbreen. One can go kayaking in the lake beneath the glacier or, if you're up to it, attempt a glacier walk. If you're curious about the natural history of the region, stop by at the Norwegian Glacier Museum. Or simply revel in the crisp air that carries with it the smell of old books mingled with pine.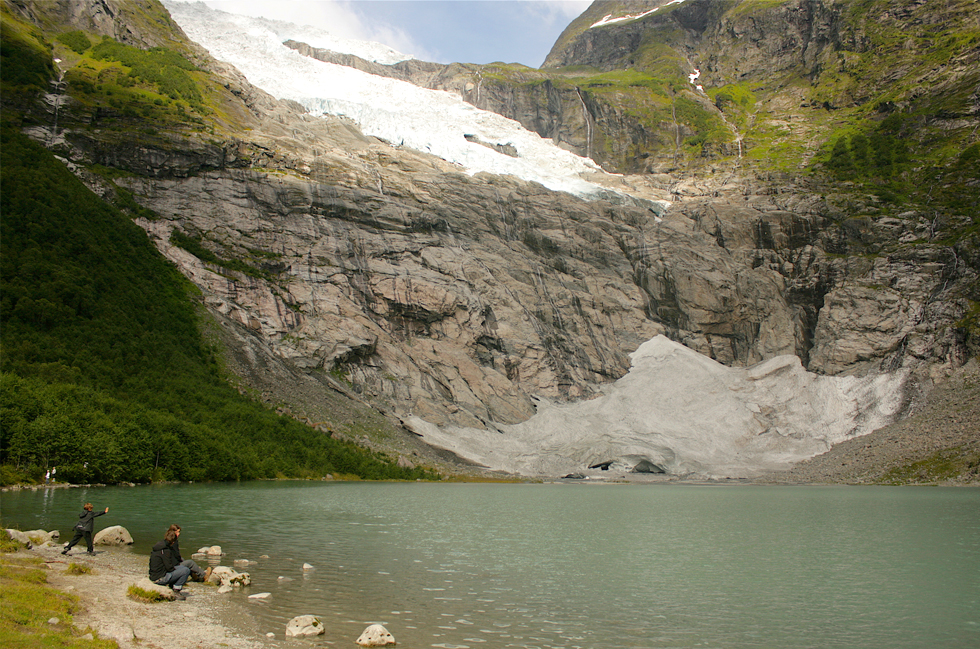 Fjærland is a ferry ride from the fjordside destination of Balestrand that was once the retreat of artists and the German Kaiser Wilhelm II. Balestrand makes for a good base for travel to Fjærland, with its combination of Viking burial mounds, an Anglican church – St. Olaf's – built in the style of the Norwegian stave churches, and numerous walking and hiking trails through the surrounding countryside. The trails lead to places like the Lunde Arboretum that has 150 varieties of trees and shrubs from around the world, including the fascinating Monkey Puzzle Tree (Araucaria araucana) from Chile.
Another walk in the woods takes you past the beautiful workshop of enamel artists Solveig and Rolf Haukaas. The Haukaas studio has a fairytale setting. The enamel paintings and trinkets crafted by the couple – both trained goldsmiths – glitter in the morning sunlight that streams in through a window with a view of the fjord. Solveig* stands next to a kiln and pulverizes some glass with cobalt to show us how enamel is made. She explains that copper and silver sheets are cut into various shapes and sizes to make earrings, pendants and large artworks. They paint over the metal with enamel paint and then bake it in a kiln after the application of every layer. "Some artworks take years to finish," she says.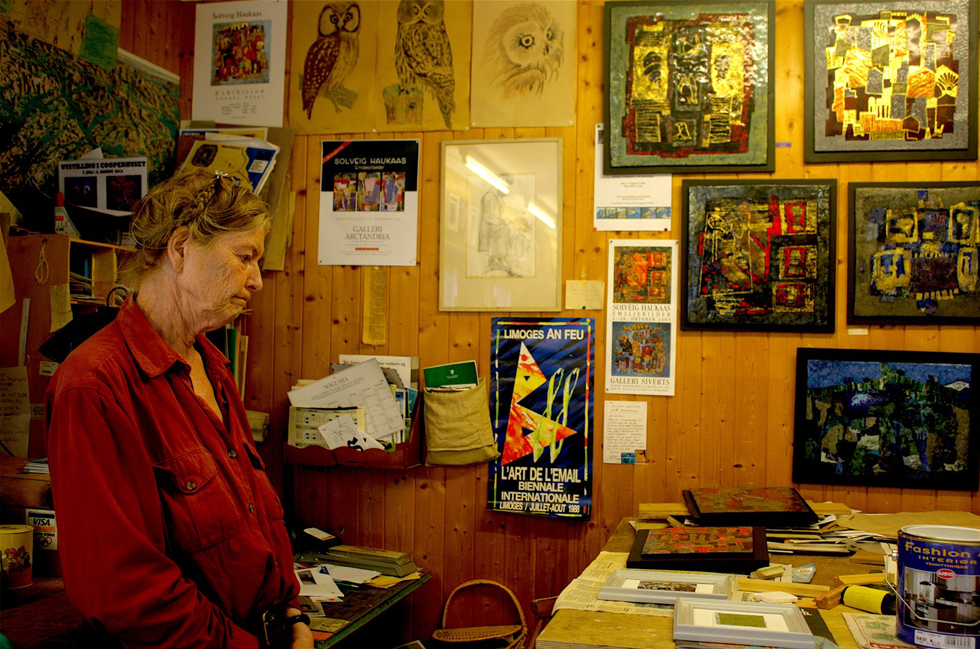 But then all of Sognefjord resembles a magnificent work of art. The handful of hotels in the region offer panoramic views, our choice being the fjordside wooden cabins of Dragsvik Fjordhotell that overlook the Jostadalsbreen. Perfect for putting your feet up after much walking, and for settling down with a good book.
*Our encounter with Solveig deserves special mention. On her way to the nearest grocery store (30 minutes away) as we approached, she thought nothing of offering us – rank strangers – the keys to her home-workshop. Honesty and trust are integral to Norway and other Scandinavian countries known for their low crime rates. Later, in Oslo, we would find a mobile phone at a bus stop and hand it over to the bus driver for safekeeping, only to be asked to leave it where we found it so that the owner could come back for it later.
The Norwegian Book Town is open daily between 10 am and 6 pm from 1 May to 30 September.
Need help planning your trip? Read Navigating Norway